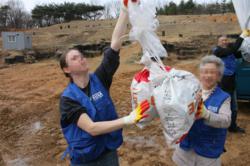 Amidst all of the controversy going on there, we wanted to share simple joy with the people of North Korea.
Colorado Springs, Colorado (PRWEB) April 13, 2012
On Thursday, April 12th, North Korea's government acknowledged the failure of their highly anticipated – and controversial – rocket launch. Less than 48 hours before the rocket's failure, however, a Christian ministry which usually launches religious materials, practical necessities, and news of the outside world successfully launched something much different into the hermit kingdom:
Peeps.
Over the course of several months, Seoul USA collected and prepared thousands of the popular marshmallow treats in order to infiltrate North Korea via the organization's giant weather balloon-style balloons. The balloons were launched from secret locations on the South Korean side of the Demilitarized Zone.
Rev. Eric Foley, Seoul USA CEO says inspiration for the delivery came from the story of how one Christmas Eve during World War I, soldiers from England and Germany came out of their trenches to sing carols and to play soccer by moonlight. For one night, Foley says, war was put on hold in favor of humanity.
"Amidst all of the controversy going on there, we wanted to share simple joy with the people of North Korea," Foley says. "The rest of the year we'll continue to send socks, medicines, flyers, and Bibles as balloon payloads. But this time, Peeps fell on North Korea like snow."
Foley notes that balloon launching into North Korea is legal in South Korea. His organization typically conducts 50-60 balloon launches annually and last year sent 1.4 million flyers and 45,000 Bibles into the closed communist state. His group's work has been profiled in various media reports, and they have advised the US State Department and members of Congress on North Korean religious issues.
"North Korean work is dark," Foley says. "It's nuclear weapons and sex trafficking and concentration camps. For once, we just wanted to spread happiness. After all, who can be against Peeps?"
Foley notes practical reasons for choosing Peeps. "Our balloons fly at high altitude. If we sent chocolate Easter bunnies or cookies, they might break when they hit the ground. Peeps are also lightweight. The lighter the weight, the more we can send."
Pictures of the group's Peep launch can be seen on their website at http://www.seoulusa.org/peeps. Pastor Foley is available for interviews. Please contact Jesse Medina at jmedina(at)dotheword(dot)org for more information.