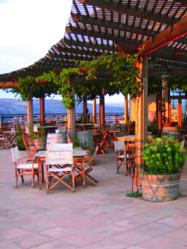 Goldendale, Wash. (PRWEB) April 16, 2012
In the 10 years between opening their tasting room doors in 2001 and the 2011 fall crush, Maryhill Winery is proud to announce it has received more than 1,000 national and international awards for its growing portfolio of wine. Frequently earning the coveted Best of Class recognition, Maryhill varietals brought home an astounding 250 awards in 2011 alone, and are already on track to match those numbers in 2012. Few U.S. wineries have announced surpassing the 1,000 award mark, with even fewer reporting that number of accolades within their inaugural decade.
Every varietal Maryhill has ever released has been an award winner, with many bringing home multiple top honors from a variety of competitions. The most award-winning varietals over the past decade include the Maryhill Cabernet Sauvignon, Syrah, Zinfandel, Winemaker's Red, Serendipity and Viognier, each with a signature flavor profile imparted by the terroir of the winery's sourcing vineyards. Maryhill's standout reds share a fruit-forward cherry note that is complemented by varying hints of coffee, pepper, currants and oak, depending on the varietal.
"The high volume of medals is an incredible achievement for our young winery, and this level of success and recognition is far more than we could have hoped for," said Craig Leuthold, owner of Maryhill Winery. "Our current winemaker, Richard Batchelor, produces exceptional varietals that are getting better with each vintage and, at the rate we're going, we are excited to see where the next 10 years takes us."
Maryhill wines regularly score 90+ points from Wine Advocate and the Beverage Institute and consistently earn Gold medals from the San Francisco International Wine Competition, Renaud Society Wine Competition and the Finger Lakes International Wine Competition, among others. And yet price has always been an important aspect of Maryhill's wine philosophy, delivering wines of exceptional quality at an affordable price point. Over the years, Maryhill has maintained its vintage value, with a majority of their wines, both classic and reserve, priced between $15 and $30. Through continuous innovation and exploration of new viticulture techniques that reduce costs and improve results, Maryhill Winery continues to produce some of the region's most sought-after wines.
With a wealth of activities and an outstanding collection of wine, Maryhill is one of the true destination wineries in the Pacific Northwest. The scenic vineyard setting offers stunning views from the winery's Tuscan-style terrace, a 3,000 sq. ft. tasting room and gift shop, tournament-quality bocce courts and a world-class concert series every summer. For more details on the winery attractions, new award wins and upcoming events, visit http://www.maryhillwinery.com
About Maryhill Winery
Established in 1999 by Craig and Vicki Leuthold, Maryhill Winery is the 15th largest winery in Washington state, producing 80,000 cases annually. Nestled among rows of vines along the stunning Columbia River in Goldendale, Wash., Maryhill is a popular destination for picnics and special events, with an adjacent 4,000-seat outdoor amphitheater that hosts a world-class summer concert series and free live music on the arbor every weekend (Memorial Day – September). Maryhill's 3,000 sq. ft. gift shop and tasting room draws more than 75,000 wine enthusiasts from around the globe each year, ranking among the top five most visited wineries in the state. Maryhill sources grapes from some of the most highly-regarded vineyards in the state, producing 24 varietals and 28 wines, and has claimed more than 1,000 awards since its first vintage in 2001.
Editor's Note: High-resolution winery and amphitheater photography, bottle shots and label artwork available upon request.