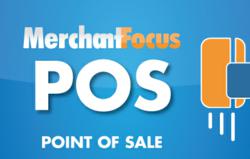 "Merchant Focus POS is a great credit card processing solution for businesses and start-ups." says John Waldron, Merchant Focus CEO.
Dublin, OH (PRWEB) April 17, 2012
Merchant Focus has released a new payment portal called Merchant Focus Point of Sale (POS) to customers this month.
Merchant Focus POS is designed to target business owners who wish to turn their Mac, PC or Google Chromebook into a payment terminal. It is a web-based point of sale solution for business owners and entrepreneurs who want to process credit card transactions from their personal or business computers. Merchant Focus POS is a downloadable app on the Google Chrome Web Store allowing for an easy and convenient setup process. The web app is compatible with Google Chrome, Mozilla Firefox, Apple Safari, and Microsoft Internet Explorer.
"Merchant Focus POS is a great credit card processing solution for businesses and start-ups. It allows for in store transactions and transactions on the go because of its compatibility with netbooks and laptops. We want to give our customers one solution to credit card processing and that's why we came up with the POS. Now if our customers are at a trade show they don't have to purchase a different terminal or merchant account to process credit cards. We really wanted to create a convenient system for them and I think we accomplished that," says John Waldron, Merchant Focus CEO.
Merchant Focus POS features a transaction log so merchants can perform tracking, refunds and voids right from their computers. It has a snapshot of daily, weekly and monthly transaction volume to quickly discover sales trends, and it can record customer data such as phone numbers, email addresses and physical addresses for future marketing. The POS is also completely customizable allowing business owners to choose their color, upload their logo and contact information. It has customizable receipts for company information and the use of QR Codes for promotions and customer loyalty. Each receipt can be emailed or printed from any printer. The POS gives each merchant the ability to assign a user ID for employees to limit access to administrative settings.
Merchant Focus POS offers very competitive merchant account pricing. There are no monthly minimums, set-up or activation fees. A monthly charge of $25.00 includes access to the POS and Merchant Account. Merchant Focus POS keeps costs low for vendors by offering a transaction charge of only 24 cents, plus 1.74 percent of the amount charged to the credit or debit card for qualified transactions. Each merchant that signs up will also get one free USB card reader to use with the Merchant Focus POS, a $79.00 value. Additional card readers can be purchased separately. Customers are also provided with extensive support via telephone, email, live chat, and web.
Merchant Focus POS is running a promotion to celebrate the launch. If a merchant signs up for an account within the first 30 days, the merchant will be able to use Merchant Focus POS service free for the life of their merchant account.
To learn more, visit http://pos.merchantfocus.com.