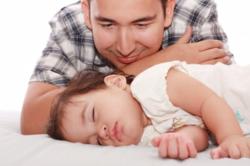 Parents will finally be able to get a good night's sleep...whether they have been struggling with sleep issues for months or years.
Winnetka, IL (PRWEB) April 13, 2012
To help parents understand and solve their baby or toddler's sleep problems, Kim Schaf, M.A.T., Owner of Sleep Training Solutions and Certified Infant and Child Sleep Consultant will be presenting two educational seminars in April. "Parents will finally be able to get a good night's sleep after implementing the information I give them, whether they have been struggling with sleep issues for months or years," says Schaf. "If bedtime is struggle, a child is waking 3 times each night to feed, up at 5:00am or not taking restful naps, these seminars will empower parents so they can solve the sleep problem quickly."
According to several studies in the journal Pediatrics, research on child sleep problems estimates that up 33% of children experience problems with sleep. Furthermore, a study was published in Pediatrics in January 2012 by researchers at Cincinnati Children's Hospital Medical Center who found that children do not necessarily outgrow sleep issues. With these statistics on child sleep issues, it is no wonder parents are trying to educate themselves on how to promote healthy sleep habits for their children.
A free seminar, 7 Tips to Better Sleep for Infants and Toddlers, will be offered on Wednesday, April 25, 2012 at 10:30am at Leoleno, 976 Green Bay Road, Winnetka, IL. Participants will learn the seven best tips to getting their child to sleep well, and how to avoid the common mistakes many parents make regarding bedtime, naptime, routines, and sleep props.
On Saturday, April 21, 2012 from 9-12pm, Schaf will be speaking to parents at Adeline's Room, 602 Davis Street, Evanston, IL, for a Sleep Seminar: How to Solve Your Child's Sleep Issues Quickly! This comprehensive and interactive seminar will help parents solve their child's specific sleep problems, including issues with bedtime, night wakings, naptime and early rising. Parents will learn about the special sleep needs of infants and toddlers, the negative effects of carrying a sleep debt, how to develop a fun and practical bedtime routine, and common pitfalls that hinder healthy sleep. Parents will take home a personalized Sleep Plan based on their own unique situation that can be implemented immediately to solve their child's sleep issues. Each participant (or married couple) will receive one week of unlimited follow-up support from Schaf to ensure successful sleep training. This seminar is geared toward parents with children ages 3 months to 3 years. Space is limited to only 12 couples (or individuals) so early registration is recommended. The cost for the seminar is $150 and registration is required.
For questions about the content of the seminars or to book a future seminar, contact Kim Schaf at (847) 386-6285. To register for the Sleep Seminar on April 21st, contact Christine at (847) 859-2312.
About Sleep Training Solutions
Sleep Training Solutions, a leading infant and child sleep consulting company, provides education and training to parents and caregivers in the Chicago area and across the country to solve sleep problems in infants and children up through age eight. Sleep problems that can be addressed include issues with bedtime, night wakings, naptime and early rising. Find Sleep Training Solutions on Facebook and follow on Twitter.
About Kim Schaf
Kim has a Master of Arts in Teaching. She offers one-on-one sessions and group seminars for parents, and is available to lead workshops and classes at drop-in groups, nursery schools, daycares, hospitals, pediatrician and OB/GYN offices at a reduced or pro-bono rate. Kim lives in a northern suburb of Chicago with her husband and two small children, both of whom are excellent sleepers.
For more information
Contact: Kim Schaf, M.A.T.
(847) 386-6285
Kim(at)SleepTrainingSolutions(dot)com
Photo: Castillo Dominici / FreeDigitalPhotos.net
# # #