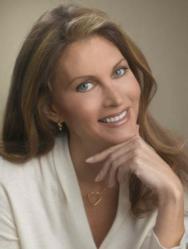 Denver, CO (PRWEB) April 13, 2012
National girls' self-esteem expert Debra Gano will headline the 2012 Girls World Expo at the Doubletree Hotel in Scottsdale, AZ on Sunday, April 22. This one-day event for girls ages 11-18 offers education on timely topics for girls such as body image, bullying, self-esteem, relationships, career, and fashion. The event runs from noon to 5 PM and launches with an 10 AM brunch celebrating the Girls of Merit and a keynote by former international model/actress Debra Gano, best-selling author and CEO of BYOU "Be Your Own You."
Gano will present "How To Be Extraordinary: An Empowerment Primer for Tomorrow's Leaders," discussing tips and tools to become fully empowered in a society that often disempowers our girls. She will address wise decision-making, self-worth, and making a difference in the world. Having spent years in the externally-focused 'glamour' industry, Gano now seeks to teach girls "it's what's inside that counts." Her best-selling book, Beauty's Secret, A Girl's Discovery of Inner Beauty, is the winner of five national awards, including Moms Choice Awards Gold Recipient. She is the CEO of the girls' self-esteem apparel & education company, BYOU "Be Your Own You," and founder/publisher of the magazine by the same name. BYOU is partnered with Nickelodeon's newest star, Cymphonique Miller of "How To Rock," who is an advocate for girls' self-esteem herself.
The Girls World Expo is a day filled with seminars, shopping, a fashion show featuring girls of all sizes, a career fair, a science fair, an art show, music, and dancers. It's a day where girls can imagine and believe in their futures, as well as be empowered to help them achieve those goals. They can explore different college and career choices with the help of mentors and experts in those fields, learn how to create a healthy body image by uncovering the facts about food and nutrition, unlock the secrets to staying safe online and in life and hear success stories from creative women leaders from all walks of life. The expo also provides a safe and upbeat atmosphere in which girls can interact and enjoy their shared interests.
Location is the Doubletree by Hilton, 5401 N. Scottsdale Rd. Scottsdale. Tickets are $15/$35with brunch and available through http://www.tickets.girlsworldexpo.com. More information can be found at http://www.girlsworldexpo.com.
About --
BYOU-Be Your Own You is a self-esteem apparel line, with a mission to improve girls' self-esteem worldwide by encouraging them to embrace the unique and authentic self they came to this world to be. Our goal is to diminish the need for girls to seek external validation and approval, and rather rely on their own inner strength in full awareness of their worth and inner beauty. Through our products and education, we empower girls to make positive choices for their health, safety, well-being, personal happiness, and contribution to community. Because every girl deserves a healthy self-esteem. For more information visit http://beyourownyou.com