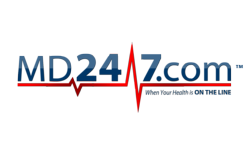 MD247 wants people to understand that telemedicine is not a scam.
Tampa Florida (PRWEB) April 13, 2012
Telemedicine provider MD247 announced on Friday that it issued the second in its series of blogs discussing both the history and the future of telemedicine.
MD247 explains that telemedicine includes a variety of services or applications, all of which rely on some type of electronic two-way communication between the patient and the doctor. Favorites preferred by the marketplace include two-way video, email communications, smart phones and other telecommunication devices. The initial foundation for the practice of medicine from a distance started in a relationship between the Nebraska Psychiatric Institute and Norfolk State Hospital in 1964, nearly 115 miles away. This long distance practice of medicine traveled to even greater frontiers by assisting our soldiers with lifesaving triage medicine and, in very unique cases, beyond infinity when treating our astronauts. After traveling both far and wide, telemedicine is now becoming integrated into the ongoing operation of hospitals; specialty departments; private physician offices and your very home or place of business. Telemedicine brings healthcare services to you.
MD247 explains telemedicine has been rapidly growing because it offers three fundamental benefits:
Improved Access:
Telemedicine has been allowing patients in distant locations to experience top-notch medical care for years, and now that same technology is being employed to allow physicians and facilities to expand into areas outside of their own offices.
Cost Efficiencies:
Reducing healthcare costs remains one of the top reasons for adopting telemedicine strategies. Telemedicine has been shown to reduce hospital readmissions, reduce unnecessary Emergency Room visits and reduce the wages lost in travel time to/from distant medical offices. The reality is that telemedicine is an elegant and economical solution to American healthcare costs.
Consumers understand that telemedicine has the capacity to relieve stress on the family, save money and save time. This has left the United States with a market hungry for the personal satisfaction that having a telemedicine service available in their community will bring.
Seminole Florida based MD247 (MD 247; MD/247; M.D. 247; MD247.COM) provides discounted telemedicine healthcare services nationwide to families, and discounted wholesale telemedicine healthcare to businesses. MD247 has successfully provided 25,000 people the ability to talk to a doctor twenty-four hours a day, talk to a nurse twenty-four hours a day, receive discounted prescription drugs and receive discounted in-person healthcare services. In addition to discounted healthcare services, MD247 provides support to groups supporting the employment of veterans of the United States Armed Services. MD247 services, as well as informational blogs, can be found for review online at http://www.md247.com.