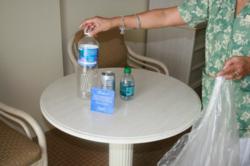 Honolulu, Oahu, Hawaii (PRWEB) April 13, 2012
In its ongoing efforts to "go green," Outrigger Hotels and Resorts collected a total of 750,000 recyclables in 2011 at its owned and operated hotels throughout Waikiki, preventing more than 17.5 tons of recyclable bottles and cans from entering Honolulu's landfill. Additionally, Outrigger then donated more than $18,000 in Hi5 redemption reimbursements to Parents and Children Together (PACT), a non-profit organization that offers social services to Hawaii families in need.
"Giving back to the community and helping to keep our island home unmarked by pollution are tremendously important to Outrigger Hotels and Resorts," said Barry Wallace, executive vice president of hospitality services. "One of our core corporate values is 'wahi,' the Hawaiian word meaning 'place,' which states 'we protect, care for and live in harmony with the land, our workplace, its people and cultures.' Outrigger's recycling program is just one example of our company's and employees' commitment to living our values and being contributing members of both our island home as well as the larger global community."
Outrigger's in-room recycling program is a simple and easy process. A card is placed in each guest room that encourages visitors to leave recyclable plastic bottles and aluminum cans in a designated bin or area. Housekeeping collects the recyclables during the normal servicing of each guest room, and then the items are stored for regular pick-up by Reynolds Recycling.
Outrigger properties that participate in the recycling program include: Outrigger Waikiki on the Beach, Outrigger Reef on the Beach, Outrigger Luana Waikiki, OHANA Waikiki East, OHANA Waikiki West, OHANA Waikiki Malia, Embassy Suites®-Waikiki Beach Walk® and Holiday Inn® Waikiki Beachcomber Resort. Resorts deserving special praise for collecting more than 140,000 recyclables each in 2011 include: Outrigger Waikiki on the Beach, Outrigger Reef on the Beach, and Embassy Suites-Waikiki Beach Walk.
Outrigger Hotels and Resorts began its current recycling program with Outrigger Waikiki on the Beach in 2006. The OHANA Waikiki East joined the program in 2008, and the other hotels came onboard in 2009.
Overseeing the program is Alan Naito, general manager of OHANA Waikiki East. "It's been exciting and personally satisfying to see our Waikiki recycling program grow from year to year," said Naito. "We collected more than a million recyclables from just a few of our properties between 2006 and 2009. With eight hotels participating in 2010, we were able to collect more than 714,000 recyclables alone, a number we happily surpassed in 2011."
Another green initiative that Naito is championing at Outrigger is the company's partnership with local company Island Shell LLC and its Whoa! FATTM Kitchen Oil Disposal Box program. It starts by used newspapers and old phone books being collected from Outrigger properties in Waikiki. Island Shell picks up these items, takes them to its facility, grinds them up, and uses them for filler in cooking-oil recycling boxes, which are now being sold in supermarkets. The Whoa! FATTM Kitchen Oil Disposal Box holds about a quart of used cooking oil, which then can be thrown away in the home curbside "grey bins" and taken to the city's H-Power plant for recycling into electric energy. Use of this Hawaii State Government-approved product helps prevent the clogging and backing up of drains and sewers in Honolulu.
Traditional recycling of items such as plastic bottles, aluminum cans, newspapers and phone books is not the only green effort in place at Outrigger. The Outrigger Waikiki and Outrigger Reef hotels have worked with local retailer Kini Beach for the past several years to collect grass beach mats, plastic body boards, air mattresses, inner tubes and other "disposable" beach toys left behind in hotel rooms by departing guests. These items are then collected by Kini Beach and turned into chic eco-products like handbags and totes, and canoe or stand-up-paddle covers that are sold in stores across the state.
Additional green projects that have been implemented behind the scenes at Outrigger by the company's engineering, maintenance, housekeeping and projects teams include:

Recycling of cardboard, paper, linens and towels
Switching to more efficient CFL and LED lighting
Tinting windows
Water conservation with xeriscape gardening
Timers on lights
Low-flow toilets
A/C sensors on lanai doors
More efficient water and cooling-pumps
Metal recycling
More efficient guest room appliances
Sea-water swimming pools at some properties
In 2009, Outrigger Enterprises Group was awarded the "Green Leader Award" from Reynolds Recycling for its efforts as a top recycling and sustainability leader in Hawaii's tourism industry.
"Hawaii's attractiveness as a visitor destination and the natural beauty we as residents enjoy every day rest heavily on keeping our environment pristine," Wallace added. "As a tourism industry leader, it is our responsibility not only to maintain, but to improve our Hawaii home for future generations. Outrigger is committed to continuing our current green initiatives and to find new ways to further expand our efforts to help achieve a more sustainable and greener Hawaii."
About Outrigger Enterprises Group
Outrigger Enterprises Group is one of the largest and fastest growing privately-held leisure lodging and hospitality companies in the Asia Pacific and Oceania regions and continues to expand its presence throughout the area. A family-owned company with 65 years of hospitality experience, Outrigger runs a highly-successful, multi-branded line of hotels, condominiums and vacation resort properties, including Outrigger® Hotels & Resorts, OHANA® Hotels & Resorts, Outrigger Condominium Collection®, Embassy Suites®, Best Western® and Wyndham Vacation Ownership®. Currently, Outrigger operates and/or has under development 46 properties with more than 11,000 rooms located in Hawaii; Australia; Guam; Fiji; Bali Thailand; Vietnam; and Hainan Island, China. Outrigger Enterprises Group also operates and develops hotel properties and hospitality-related retail and real estate opportunities for partners in Hawaii, the Pacific, the mainland USA and Asia. For on-line information, log on at http://www.outriggerenterprisesgroup.com and http://www.outrigger.com.
Download Images: http://tinyurl.com/hi5recycle Photo Courtesy of Outrigger Hotels & Resorts