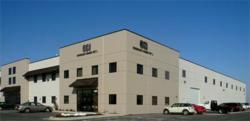 Many companies are turning to a single source for their material handling needs, so it made sense to extend our services to the West, which will also increase our reach and brand recognition."
Houston, TX (PRWEB) April 17, 2012
ProservCrane Group acquired Overhead Crane International, LLC, expanding their overhead crane operations across the entire Western United States, making them one of the largest
independently owned overhead crane manufacturers in the country. The addition of OCI is expected to increase ProservCrane's sales revenues to over 60 million in 2012.
OCI, located in Woods Cross, UT is just minutes north of Salt Lake City with a field office in Mesa, AZ, centrally located between the ports of Los Angeles and Houston to provide services from Southern California to Texas and across the Mexican border.
"The acquisition is a "win, win" for both parties." says Brad Wilson of ProservCrane Group. "...it gives ProservCrane an instant presence in the West Coast, plus helps expand our parts, service/inspection and new equipment sales business. Many companies are turning to a single source for their material handling needs, so it made sense to extend our services to the West, which will also increase our reach and brand recognition."
"OCI will bring with them expertise in projects with heavy specifications and seasoned engineers licensed in Utah, Nevada, Arizona, Colorado, New Mexico and Wyoming." adds Wilson.
The foundation for OCI was laid more than 35 years ago when the majority owner, Thomas Rich, began practicing as an associate structural engineer with Fluor Corporation in Southern California. After becoming licensed as a Professional Engineer (P.E.), he began a career designing and manufacturing overhead cranes.
"For the past 30 years, overhead cranes, hoists and monorail systems have been the number one focus with customer satisfaction our number one priority." says Rich of OCI. "I feel ProservCrane has solid business philosophies and values and look forward to a successful future with the leading independent crane manufacturer in the nation."
With production operations in Houston and Irving, TX and a field office in San Antonio, TX, ProservCrane manufactures about 800 cranes a year, mainly for the oil and gas industry with capacities from 1/4 to 250 US tons. With the addition of OCI they will manufacture an additional 100 cranes in 2012.
In addition to cranes, ProservCrane produces custom built-up hoists and in 2010 they ramped up their hoist production.
"Our hoist design has been used for over 15 years and has proven to sustain the most demanding
applications," explains Wilson. "…and since then we have seen tremendous growth in heavy duty custom components and look forward to future innovations."
On March 5, 2012, ProservCrane opened doors to a 12,000 sq. ft. parts and accessories facility which houses over 10,000 ready-to-ship crane components.
"We want to be your one-stop shop for all your material handling needs." adds Wilson.
Future plans include the launch of a parts e-commerce site that will further support their parts and components business.