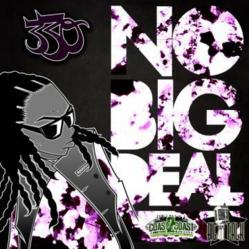 Miami, FL (PRWEB) April 13, 2012
Hip hop artist 330 (Now of Y.H.I. Ent.) is pleased to announce her second independently released mixtape, "No Big Deal," hosted by DJ Big Talk of Coast 2 Coast Mixtape DJs. The project comes one year after her first release, "Sorry I'm Late." It is now available for free download.
"No Big Deal" boasts ten tracks of new and original songs written by the witty, female lyricist and produced by great local talents—Jerome Vo, Triple Threat, Sicc, and Kane, for starters. She even boldly takes on Ghostface Killa's "Be Easy" (Watch the Dow) and The People Under the Stairs' "Jappy Jap" (Cool Ass Beat) as remix tracks. The self-recorded project was mixed by Fess, Awthentik & Drum Mage—engineers from Philadelphia, D.C., and NYC, respectively.
A few features help to add to the project's diverse appeal: smooth vocals on "Night Life" courtesy of Kareem and Maia; an energetic, upbeat collaboration with Jenni Fair of Mogul Music, LLC on "When You Say Ready;" an uncharacteristically relationship-friendly song for 330—"You Get on My Nerves"—features singer/songwriter/producer O.S.K. on the hook with Maia; and the all-female emcee track, "No Girls Allowed" could easily be considered a hip hop classic. Tobare, Hollywood Prada, Triple Threat and 330 prove that they can go bar for bar with the best of them in four well-composed verses that showcase each artist's distinct style and potent delivery.
2012 has been a productive year thus far for 330. She has joined forces with Y.H.I., a small inde label out of Baltimore, MD and is already preparing for the summer release of her next project. As with any serious artist, 330 has little time for anything outside of recording, performing, and networking. However, we have a sneaking suspicion this newcomer to the game will have a lot more added to her plate before the year's end!
"No Big Deal" is available online at datpiff.com, soundcloud.com and for free streaming and download at http://coast2coastmixtapes.com/mixtapes/mixtapedetail.aspx/330-no-big-deal-mixed-by-dj-big-talk
To schedule interviews, or to request a copy of the new mixtape for radio play, please contact Kash at: info4yhi(at)mail(dot)com.