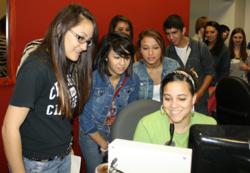 Students today are inundated with advertising that encourages them to spend without regard to their financial futures. So to counteract those messages, we need to speak to them in a way that is engaging and entertaining
San Antonio, TX (PRWEB) April 16, 2012
The Generations Federal Credit Union Student Life Team (MyGenLife) hosted 71 students from San Antonio's Churchill High School for a Financial Scavenger Hunt through the credit union's historic downtown branch. The exercise was part of the Credit Union's National Financial Literacy Month initiatives. Students got a behind-the-scenes view of the day-to-day operations of the Credit Union, working with front-line tellers, visiting the vault and drive-thru teller pod and meeting with the President and CEO, Tim F. Haegelin.
"High school and college students today are inundated with advertising that encourages them to spend money without regard to their financial futures," said Student Brand Manager, Kimberly Blohm. "So if we are going to try to counteract those very powerful messages, we need to do it with authenticity and, more importantly, in a way that speaks to them and engages them."
In addition to Churchill High School, Generations will be partnering with every college in the Alamo Community Colleges district to bring financial literacy classes to their students. The Generations Student Life Team will teach more than 25 classes during the month of April alone at San Antonio College, Palo Alto College, Northeast Lakeview College, St. Philip's College and Northwest Vista College.
Generations Federal Credit Union is the recipient of the State of Texas Desjardins Youth Financial Education Award and the State of Texas FOCUS Award for its "No Suckers Here" program. No Suckers Here has been recognized for teaching students the importance and value of financial literacy in an engaging and fun environment that resonates with students.
The Generations Federal Credit Union Student Life Team works with individual schools and administrators to determine the financial needs for their student body, and then developing a financial education program tailored for their needs.