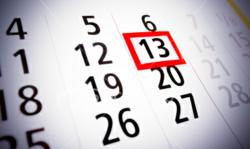 New York, NY (PRWEB) April 13, 2012
Many people like to experience the thrill of Friday the 13th and every few years the day arrives. Chatwing encourages websites to sign up on Friday the 13th to recieve a unique chat box. The chat box has special Friday the 13th stamps displayed to all chatters. Websites also have the ability to insert unique icons and time stamp the special day.
Friday the 13th is a date that many people consider to be bad luck. However, Chatwing encourges websites to overturn this western superstition with unique icons for any box. One Theory of why Friday the 13th is cursed, Friday represents an unlucky day of the week and thirteen an unlucky. Despite these illusions Chatwing encourages Bloggers to overturn these theories and represent a positive aspect with unique chatrooms.
Now websites and blogs have the ability to put a positive energy on Friday the 13th. Chatwing chat box allows websites to add an interactive element and generate additional traffic. The ability for users to sign in with Facebook and Twitter allows chatters to share with friends and followers. Facebook and Twitter encourage users to use a personal identity and communicate freely.
Installing a free chat box is very simple, with a few clicks Chatwing can be live in a matter of minutes. New features are constantly being added to Chatwing and based on development trends this will continue. The ability for users across the web to communicate in real-time has become a constant part of online freedom and website chat boxes continue to simplify this.
About Chatwing
Chatwing.com has developed live chat software for websites and blogs. The Chatwing.com website offers users the ability to signup and create a customizable live chat feature in 1 minute or less. Users have the ability to customize the size, color, and fonts of the chat product. The ability to chat via social media accounts such as Facebook and Twitter enable Chatwing to offer a personal and unique real-time experience to all sites. Chatwing is 100% free web software.