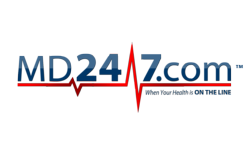 MD247 is here to discuss telemedicine.
(PRWEB) April 13, 2012
Seminole Florida based telemedicine provider MD247 addressed program members on Friday April 13th to discuss Scam Informer entries, Ripoff Report entries and Scam Book entries filed against the company. The necessity for the review of the reporting sites was an integral component in the MD247 plan to promote transparency, and make the customer service policies of MD247 very well known. It is the sincere hope of MD247 that program members with questions and concerns will seek out customer service assistance, as opposed to filing a nameless and faceless report to the world on Ripoff Report; Scam Informer or Scam Book.
MD247.COM is a hardworking group of telemedicine professionals, working every day to provide families across the United States with affordable healthcare services using telemedicine. The cutting edge speed of the technology involved means that mistakes will be made, and it means that some people will not be satisfied. In order to easily deal with customer concerns in a cutting edge medical frontier, MD247.COM requests that all program members with questions and concerns contact MD247.COM at 866-232-1343 or email cs(at)md247.com. The goal of the toll free line, as well as the email address, is to resolve questions before they escalate to the point of ever being reported to Ripoff Report; Scam Book or Scam Informer.
Ripoff Report, Scam Book and Scam Informer are designated by themselves to be consumer protection websites.
Seminole Florida based MD247 (MD 247; MD/247; M.D. 247; MD247.COM) provides discounted telemedicine healthcare services nationwide to families, and discounted wholesale telemedicine healthcare to businesses. MD247 has successfully provided 25,000 people the ability to talk to a doctor twenty-four hours a day, talk to a nurse twenty-four hours a day, receive discounted prescription drugs and receive discounted in-person healthcare services. In addition to discounted healthcare services, MD247 provides support to groups supporting the employment of veterans of the United States Armed Services. MD247 services, as well as informational blogs, can be found for review online at http://www.md247.com.