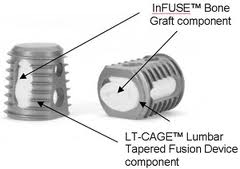 It was all of the phone calls referencing the same device that put this device on our radar
(PRWEB) April 14, 2012
In 2002, the U.S. Food and Drug Administration (FDA) approved Medtronic's Infuse Bone Graft for anterior approach spinal fusions in the lumbar (lower) spine in patients with degenerative disc disease. However, it appears that off-label use of the device has become a problem. Ennis & Ennis, P.A. started receiving phone calls in the summer of 2011 from patients complaining of injuries sustained by off-label use of the device. "It was all of the phone calls referencing the same device that put this device on our radar," said attorney David Ennis. Some off-label uses include insertion of the Medtronic's Infuse Bone Graft in the cervical spine (neck) or the insertion of the device in lumbar fusions performed posteriorally (from the back).
Medtronic's Infuse bone graft system consists of a small, hollow metal cylinder, which is filled with a genetically engineered material that stimulates bone growth, known as rhBMP-2 (recombinant human Bone Morphogenetic Protein-2).
In July 2008 the FDA issued a Public Health Notification alerting health care practitioners of reports of life-threatening complications associated with recombinant human Bone Morphogenetic Protein (rhBMP) when used in the cervical spine. The Notification specified, "Note that the safety and effectiveness of rhBMP in the cervical spine have not been demonstrated and these products are not approved by FDA for this use." Complications included swelling of neck and throat tissue, which resulted in compression of the airway and/or neurological structures in the neck, thereby creating difficulty in swallowing, breathing or speaking.
In June 2011 The Spine Journal reported that researchers with financial ties to Medtronic overstated Infuses' benefits and drastically understated its risks by claiming there were none. The Spine Journal estimated the median amount of Medtronic money received by researchers involved in some studies ranged from $12 million to $16 million, with most of that going to a few individuals.
In March 2012, Medtronic agreed to pay $85 million to settle a shareholder lawsuit accusing it of making misleading statements concerning the Infuse Bone Graft device, reported Reuters. The settlement resolves claims that Medtronic failed to reveal that as much as 85.2 percent of Medtronic's Infuse Bone Graft sales depended on so-called "off-label" uses, where doctors sometimes paid by Medtronic would prescribe the product for applications not approved by the FDA.
Reuters reported that Medtronic's Infuse Bone Graft sales in the 2011 fiscal year totaled $800 million.
Ennis & Ennis, P.A. recommends that anyone with a Medtronic Bone Infuse Graft, who is experiencing complications, first seek medical attention. Then file an adverse event report with the FDA at https://www.accessdata.fda.gov/scripts/medwatch/medwatch-online.htm. Lastly, consult with an experienced attorney.
Ennis & Ennis, P.A. has experience in representing clients against Medtronic in the Medtronic Sprint Fidelis and Medtronic Defibrillator litigation over the last five years.
Ennis & Ennis P.A. continues to offer free, nationwide, confidential consultations for patients who have suffered from an off-label use of the Medtronic Infuse Bone Graft by calling toll free 1-800-856-6405 or by going to http://www.ennislaw.com and completing an online case evaluation form.
Remember the law limits the time in which you can file a claim, so don't wait to explore your legal rights. Call today toll free 1-800-856-6405 or visit http://www.ennislaw.com.