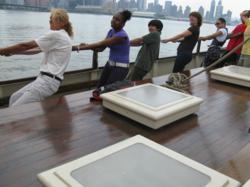 "Columbia Environmental Education at a Distance (CEED) is highly relevant to today's middle school teacher."
New York, NY (PRWEB) April 16, 2012
Faced with the need for high-quality professional development and rising demands for achievement in the classroom, middle school teachers now have a new innovative way to earn independently vetted and approved Continuing Education credits while creating engaging customized teaching units tailored to their students' needs. Columbia Environmental Education at a Distance (CEED) represents a unique ap-proach to middle school education, designed to promote scientific and environmental literacy with problem-oriented, place-based teaching. Its project-based methods and focus on field experience also promote student academic engagement, which extensive research shows is consistently highly correlated with academic outcomes and graduation rates. From staying on task, to feeling positive and motivated, to figuring out how to solve a problem, engaged students do what's needed to succeed academically. CEED provides precisely the type of learning that studies show engages students:

Authentic work with real-world relevance that allows for the development of products
Opportunities for greater attention and support from teachers
Collaboration (among students and among teachers)
A variety of tasks and experiences to showcase different talents and skills
Sense of community and membership – to a project group, classroom, or entire grade or school
Choice and autonomy in learning: opportunities to "own" what one learns and creates
High academic expectations and use of higher cognitive skills
Based on the on-site Integrated Ecology Curriculum (IEC) program developed and tested by teaching experts over a period of five years at the Center for Environment, Economy, and Society (CEES), the online CEED program provides focused, comprehensive professional development appropriate to all disciplines.
"CEED is highly relevant to today's middle school teacher," said Rebecca Johnson, Director of Professional Development, CEES. "We provide teachers a rare opportunity for close mentoring and guidance in innovative techniques and in using the Environment as an Integrating Concept. We also offer participants a complete, customized unit at the conclusion of the course tailored to fit the needs of their students, curriculum requirements, and individual teaching styles."
Conducted exclusively online, the CEED program is readily accessible to teachers across the country, offering distinguished continuing education to those outside of Columbia's immediate vicinity. But unlike other online professional development programs, CEED provides live feedback and individualized guidance by CEED advisors throughout the course, an element that educators consider crucial to the program's success.
Too often curricula are provided or recommended to teachers but the training needed to properly implement them is lacking. Teachers may need support in conducting lessons in the field, or in constructing embedded assessments, or identifying useful external resources. This program allows the teacher to develop a unit that he or she can take ownership of, to practice techniques in a supportive atmosphere, to try new types of activities and assessments, and to relate to students in new and hopefully more rewarding ways.
CEED aims to replicate nationally the success of its on-site predecessor—IEC—that produced accolades from teachers and administrators alike. "…My students and teachers who have worked with [IEC] experience a connection between their teaching and learning in the classroom and the world around them," said Principal Jill Bloomberg, from Brooklyn, New York. "Their colleagues peer into their rooms, drawn by the energy of the genuine student engagement in learning. 'When do I get to work with [this program]?' is an increasingly common question."
A select group of teachers from several states has been invited to participate in the CEED program. Starting today, CEED will be accepting a limited number of additional applications by the registration close date of May 15. For further information, candidates may call (212) 851-1888 Monday-Friday, 9:00 a.m.-5:00 p.m.
# # #