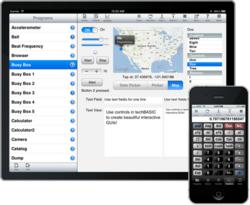 It's like having a mini-MATLAB in my pocket. Susan Foy, Ph.D.
Albuquerque, NM (PRWEB) April 16, 2012
"For the first time on the iPhone and iPad programmers, scientists, students, and hobbyists have the opportunity make full use of the unique features of the iPhone and iPad," said Mike Westerfield, president, Byte Works, Inc. "Complete access to the built-in sensors; the ability to write interactive programs; and libraries for GUIs, graphics and sensors, all using the standard BASIC programming language, are now available to anyone interested in programming on the iPhone and iPad."
Among the key features in techBASIC 2.0:
Sixteen different iOS GUI Controls, including:

- Images

- Segmented Controls
- Tables

- Web Pages
Email Support:

Create emails with attachments right from the program to share information.
Photo Support:

Take photos or fetch images from the photo library for display or analysis.
Write Interactive Programs:

The ability to mix controls with plots to quickly create interactive simulations.
Visualize Information with 2D and 3D Graphics:

The ability to easily plot functions, data or general surfaces makes techBASIC the ultimate graphing calculator.
Built-in support for visualizing and manipulating functions lets scientists and students interact with their data.
Rotate 3D plots along an arbitrary axis.
Supports 2D and 3D Cartesian axis, polar, spherical and cylindrical axis.
Use vector plots for physics simulations.
• Error bars create professional quality plots.
Advanced Math Functions:
Support for array and matrix commands like matrix inversions, determinants, matrix arithmetic, and more.
Access to Internal and External Sensors:

Scientists, students and hobbyists can collect data from the sensors built into the iPhone and iPad, like the accelerometer, magnetometer and gyroscope.
Collect data from external sensors using HiJack.
Analyze photos or images from the photo library pixel-by-pixel.
Powerful BASIC compiler for writing programs.
A step and trace debugger for tracking down errors.
Built-in help system puts all the details just a tap away.
Easy to share programs and data by moving files to and from a desktop computer using iTunes.
Many samples are included with techBASIC, and the Byte Works website includes a growing collection of projects, Quick Start Guides and a Reference Manual with dozens of complete working sample programs.
techBASIC Requirements:
iPhone, iPod touch or iPad running iOS 5 or later
Pricing and Availability
techBASIC 2.0 is $14.99 (USD) and is available worldwide in the App Store Utilities category.
The Byte Works has been creating quality "apps for people who think™" since 1982. Current directions include apps for scientific programming, calculators and astronomy programs for iOS. Past efforts include developing Apple Programmers Workshop and the award winning ORCA line of compilers for the Apple IIGS, the HyperLogo™ scripting language for HyperStudio™, and MediaBlender™, a multimedia authoring tool for education.