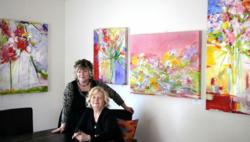 "... (She) is known for her enthusiastic use of color and her modern, abstract aesthetic."
Carmel, IN (PRWEB) April 16, 2012
The Stratford, a retirement community located in Carmel, Ind., announced today that it is partnering with the Kellar Mahaney art gallery to host "Color Inspires: Paintings by Kellar Mahaney" from May 3rd through May 30th at the community's Carmel campus.
The exhibit features the colorful and eclectic works of award-winning artist Edie Kellar Mahaney who is dedicating the exhibit to the memory of her brother,Chuck Kellar, who was also a well-known abstract artist. He painted professionally throughout his life until passing from Alzheimer's disease in August of 2011. A portion of the proceeds from the sale of the paintings will be donated to the Alzheimer's Association in his memory.
Edie, who paints under the name Kellar Mahaney, is known for her enthusiastic use of color and her modern, abstract aesthetic. She enjoys freedom of thought and inspiration, and her artistic signature is characterized by large, brushy strokes on expansive canvasses.
The Stratford will host a reception in honor of the artist on May 3, 2012 at 5:00 p.m. Guests will enjoy heavy hors d'oeurves, champagne and a selection of wines designed to complement the vivacity of Mahaney's paintings.
Guests are required to RSVP by April 30th for the reception by calling 317-733-9560. The Stratford is located in the Village of WestClay at 2460 Glebe Street, Carmel, IN 46032.
About the Kellar Mahaney Gallery
Edie Kellar Mahaney is an award-winning contemporary painter who maintains a studio in Zionsville, IN. She received a BFA in Fine Art from Wittenberg University and a Master's Degree in Studio Painting from Ohio State. She is founding director of the Munce Art Center, was honored by Indiana Governor O'Bannon in 1998 with a "Distinguished Hoosier Award". In 2008, her daughter Lolly opened the Kellar Mahaney Gallery to feature her mother's colorful paintings. Now in 2012, mother and daughter are creating a line of fabrics to bring the original Kellar Mahaney style and color to home décor. Learn more at http://www.kellarmahaney.com
About The Stratford
The Stratford is the first active senior living community, formerly known as continuing care retirement communities (CCRC), to be built near Indianapolis in the last 25 years. The community offers independent, maintenance-free living and a host of on-site amenities such as personalized meal plans, an aquatic and fitness center, and access to over two dozen restaurants, shop and retailers in the nearby Village of WestClay. Members also gain access to on-site assisted living, Alzheimer's care, skilled nursing and other healthcare services should they need them. More information about The Stratford is located at http://www.Stratford-Living.com.