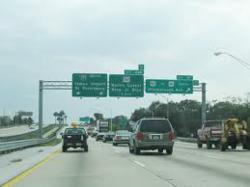 Apart from posing health risks, mold can also cause accidents.
Indianapolis, IN (PRWEB) April 16, 2012
The Department of Transportation in Tampa closed one of its exit ramp. It's the slimy mold covering the ramp that prompted the decision of the department. Wanting to help the state solve the problem in a safe, affordable and eco-friendly manner, Mold-Removal.biz suggested that organic-based mold removal products should be used in the remediation process.
Based on the report from TampaBay.com, it's the exit ramp in Southbound State Road 60 that got shut. The ramp, which goes to the Howard Frankland Bridge, is said too slick because of the mold presence. To clear the spores off, DOT closed the exit ramp last April 13. It said that work will continue for several more weekends.
Reportedly, it's the nearby drainage that primarily caused the mold problem in the ramp. When a retaining wall was built along the exit at Interstate 275, water started to seep through it coursing up to road after heavy storms. And as a result, mold and mildew grew.
Here is a part of the report Exit Ramp in Tampa Closed Due to Mold from Mold-Removal.biz:
"If you are a Tampa motorist, here is one thing you must know before you hit the road – the exit ramp from Southbound State Road 60 going to Howard Frankland Bridge has been closed. It will be shut down for several weekends starting the 13th of April. That's all thanks to the slimy mold.
"According to Tampa Bay Times, mold has made the said southbound exit ramp too slick for the motorists. To solve the problem and surely, to prevent any road accident, the Department of Transportation decided to close the ramp."
Read more about Mold Closed Tampa Exit Ramp at: http://www.mold-removal.biz/slimy-mold-exit-ramp-tampa-closed.htm
Apart from posing health risks, mold can also cause accidents. That's because so much of it can make a surface slimy and slippery. And so, wherever and whenever there is mold, a remediation process must be implemented said Mold-Removal.biz.
However, the site added mold removal products are essential to make the remediation process easier to complete. It warns consumers though that not all sprays available are safe. As it stated, some of them contain hazardous to health.
For a mold removal process that is safe both for anybody's health and the environment, the website said that product to use must be organic-based.
Find the best organic-based mold remover today. Go to http://www.mold-removal.biz.