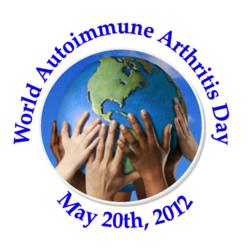 Worldwide (PRWEB) April 15, 2012
On May 20th, 2012, the 1st World Autoimmune Arthritis Day (WAAD) will happen online in the form of a Virtual Convention, spotlighting awareness and educational materials for those affected by these serious and sometimes life threatening diseases. Free Registration at the event site: http://www.WorldAutoimmuneArthritisDay.org . Registration Invitation link can be found at http://youtu.be/I38vA-fqlik .
Interact with patients, supporters, nonprofits and advocacy groups from around the world during this 47 hour online event that will feature 16 Live and On Demand Presentations from Patient Experts, Chat Sessions, a Resource Room filled with downloadable, free educational materials and several scheduled Live "Call to Action Awareness Posts" that will occur every 6 hours. Dozens of nonprofits around the world will be participating, including the Spondylitis Association of America, Lupus UK, the Sjogren's Syndrome Foundation and WAAD hosts, the International Autoimmune Arthritis Movement.
"This free event is aimed to bring awareness and education about Autoimmune Arthritis diseases to patients, their supporters, doctors, researchers and the public. It will largely focus on the serious, and often misunderstood, nature of these diseases as well as the impact it has on the lives of those affected," explains Tiffany Westrich, Event Coordinator and CEO of the International Autoimmune Arthritis Movement. "We are working hard to ensure all subjects are covered, from what signs parents can look for to addressing the question "Who Am I Now?" to learning tips for making daily tasks a little easier. WAAD will have a little something for everyone!"
Autoimmune Arthritis diseases include: Rheumatoid Arthritis (RA), Psoriatic Arthritis (PsA), Ankylosing Spondylitis (AS), Primary Sjogren's Syndrome (SS), Systemic Lupus Erythematosis (SLE), Still's Disease (SD), Juvenile Arthritis (JA), Mixed and Undifferentiated Connective Tissue Diseases (MCTD/UCTD/SpA). WAAD will also recognize 'Related Diseases' during this event. Sponsor and Vendor opportunities are available through May 1st, 2012. It is also possible to make a donation in honor of someone afflicted by an Autoimmune Arthritis disease. For more information, please contact Tiffany at: tiffany@IAAMovement.org . You may also visit our Facebook Page at http://www.facebook.com/WorldAutoimmuneArthritisDay or follow us at http://www.twitter.com/WAutoimmuneAD