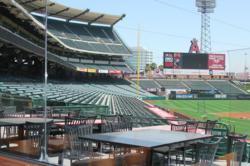 James DeSimone states: This settlement enables wheelchair users to enjoy in-seat dining in the best seats in the house at Angels Stadium. The settlement also shows how the class action system works.
Anaheim, CA (PRWEB) April 14, 2012
With baseball season starting, the final approval of a class action settlement benefiting baseball fans who use wheelchairs could not have come at a better time.
On April 13, 2012, the United States District Court of the Central District of California granted final approval of the class action settlement agreement in the lawsuit (Case No. SACV 10-0853 DOC (ANx)) filed by J. Paul Charlebois against Angels Baseball LP and the City of Anaheim on behalf of a nationwide class of wheelchair users.
As a result of the settlement, for the first time, Angels Baseball will provide in-seat food and beverage service to 32 wheelchair and 32 companion seats on its Terrace Level.
Diamond Club Tickets for wheelchair users and their companions will be sold at a discounted rate of $50.00 per game through the Angels Ticket Office for the entire season. The Diamond Club seats are located directly behind home plate and usually sell for $150.00. The settlement provides that any future price increases for the discounted wheelchair accessible seats in the Diamond Club will be equal to the weighted average of Club Level tickets, which are priced similarly to the $50.00 ticket.
The discounted Diamond Club Tickets can be purchased on-line through the Angels Ticket Office by emailing a request to diamondclubaccess(at)angels(dot)com and providing verification of the need for the use of a wheelchair.
Wheelchair accessible and companion seating for seats other than the discounted Diamond Club tickets will now be available for the first time for purchase on-line, in the same manner available to the general public, through Ticketmaster.