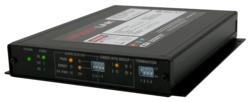 The time and cost-savings the 3380-series offers broadcast engineers can be significant, and its compatibility with the current line of Fiberlink Series products further enhances its versatility
Las Vegas, NV (PRWEB) April 16, 2012
Communications Specialties, Inc. (CSI), a leading worldwide provider of fiber optic transmission technology for the video and broadcast industry, is introducing new additions to its award-winning Fiberlink fiber optic product line at NAB 2012 (NAB Show 2012 Booth N2518). The new Fiberlink® 3380-Series, consisting of the 3380 Transmitter and 3381 Receiver, transports 3G/HD/SD-SDI video and four line-level analog audio signals found in professional video and broadcast environments, making it ideal for a number of locations and applications including broadcast and corporate studios, OB vans, rental and staging, auditoriums, stadiums, theaters, and distance learning, and more.
The Fiberlink® 3380 Transmitter accepts as its input one SDI signal and up to four audio signals or "channels". The 3380 converts the analog audio into digital audio and embeds it into the SDI digital video signal stream in accordance with applicable SMPTE standards. The combined video / audio stream is then transmitted over one fiber optic cable, saving broadcast engineers significant time and cost savings.
Serving as a perfect complement to the 3380 Transmitter, the Fiberlink® 3381 Receiver accepts the fiber signal from the 3380, recovers the embedded audio from the 3G/HD/SD-SDI signal, and converts it back into a line-level audio signal and presents it as outputs on the 3381 receiver. In addition, the SDI video signal, with the audio still embedded, is also presented on a separate SDI output.
"The new Fiberlink 3380-Series is an ideal solution for a wide range of broadcast applications including over-the-air broadcasters, networks, corporate, military, and higher education," explains Paul Seiden, Director of Sales at CSI. "The time and cost-savings it offers broadcast engineers can be significant, and its compatibility with the current line of Fiberlink Series products further enhances its versatility."
The Fiberlink 3380-Series is extremely versatile and can be used with most current Fiberlink Series products including the Fiberlink 3360/3361 for analog-to-digital or digital-to-analog cross conversions; Fiberlink Matrix for complex signal routing; and Fiberlink 3353 to receive the optical 3G/HD/SD-SDI signal (with audio) and convert it to HDMI with audio pair selection.
Key Product Features

Accepts up to 4 channels (2 pairs) of Analog Line Level audio
Balanced and unbalanced audio support
Transmitter can pass existing embedded audio or insert audio on a pair-by-pair basis
Signal is equalized and re-clocked prior to fiber optic transmission
Receiver features a re-clocked SDI output
Designed for fiber optic interoperability with other SMPTE 297-2006 fiber optic compliant devices up to 2.97 Gbps
Immunity to pathological patterns over entire link budget and operating temperature range
Compliant with SMPTE 259M-2006, 292-2006, 424M-2006, 297-2006, 276M
Supports both Single Mode and Multimode ( 62.5u & 50u) fiber types
Supports 3G/HD/SD-SDI inputs with or without embedded audio and data 14 dB Optical Link Budget @ 2.97 Gbps
Wide operating temperature range: -10º C to +50º C
Compatible with a variety of Fiberlink Series products including Fiberlink 3360/3361, Fiberlink Matrix, and Fiberlink 3353
The Copperlink™ 2380/2381 is a copper version of the Fiberlink 3380/3381, also available from CSI.
# # #
About CSI
Founded in 1983, Communications Specialties, Inc. (CSI) is recognized worldwide for its development of innovative products in the areas of fiber optic transmission and computer-video technology. CSI manufactures the Fiberlink® line of point-to-point fiber optic transmission systems for video, audio and data, the Copperlink™ line of signal distribution products, the award-winning Scan Do® line of scan converters and Deuce® video scalers. The company is headquartered on Long Island, New York, USA.
For more information, visit commspecial.com or contact CSI at: Phone: (631) 273-0404, Fax: (631) 273-1638 or Email: info(at)commspecial(dot)com.