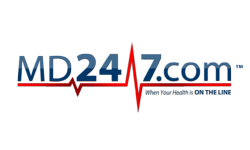 M.D. 247 discusses Ripoff Report.
Tampa Florida (PRWEB) April 15, 2012
Telemedicine specialist M.D. 247 communicated with all program members on April 13th to discuss consumer posts filed on the sites Scam Book, Scam Informer and Ripoff Report against M.D. 247. The need for the review of the consumer "beef" reporting sites was an integral component in the M.D. 247 plan to promote customer care transparency at a corporate level, and make the customer service policies of M.D. 247 broadly known to program members. M.D. 247 wants program members with concerns or questions to seek customer care help, before they choose to file a nameless report to the internet on Scam Book; Scam Informer or Ripoff Report.
M.D. 247 is a telemedicine service provider, which works daily to provide individuals and families across the United States discounted healthcare opportunities using telemedicine technology. The cutting edge technology involved means that there will be mistakes, and it means that there will be some consumers who are never satisfied. In order to easily deal with customer concerns in a cutting edge medical frontier, M.D. 247 has requested that all program members contact M.D. 247 either at 866-232-1343 or email cs(at)md247(dot)com with their questions. The goal of the customer service contact is to resolve concerns before they escalate to the point of ever being reported to Scam Informer; Scam Book or Ripoff Report.
Scam Book, Scam Informer and Ripoff Report are designated by themselves to be consumer protection websites.
MD 247 is a twenty-four hour a day affordable concierge telemedicine company based out of Seminole Florida. All members have unlimited telephone access to a nationwide medical support team with just a phone call. MD247.com has a virtual platoon of Registered Nurses and board certified physicians available to members for all non-emergency situations. You can learn more about MD247.com by visiting http://www.md247.com.