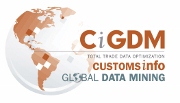 Eden, UT (PRWEB) April 13, 2012
Sister companies CUSTOMS Info and Global Data Mining LLC (CiGDM) recently conducted a webinar focusing on the benefits of effectively using ITRAC (Importer Trade Activity) data. This webinar explains what ITRAC data is, how it can be obtained, costs involved in getting the data and how the data can be used by businesses to add value and reduce costs.
When:
Available online 24/7
Where:
Online. Free registration and materials available at https://www1.gotomeeting.com/register/262865257
Who:
Matt Gersper, president and founder, Global Data Mining and co-owner, CUSTOMS Info
What:
Free webinar and materials that discuss import data provided by The Office of International Trade. This data is provided to Importers of Record, to filers and to their legal representatives and is referred to as ITRAC (Importer Trade Activity). The webinar seeks to answer basic questions including: What is ITRAC data? How to obtain ITRAC data? How much does ITRAC data cost? How are basic and advanced users utilizing the data? How can ITRAC data add value to an individual job and company? The webinar will show how to use ITRAC data to communicate supply chain risks and opportunities to executives. It also shows how ITRAC data can produce a blueprint to corrective actions, resulting in improvements that can potentially reduce costs involved in the supply chain.
Supporting Resources:

About CiGDM:
CUSTOMS Info (Ci) and its sister company Global Data Mining (GDM) help businesses optimize global trade management (GTM) systems and streamline global trade automation. Ci provides the world's most comprehensive trade data repository delivered via web-based subscription, API web services or as data to populate any GTM or Landed Cost application. Ci is the largest provider of duty and tax content for international e-commerce with hundreds of e-commerce sites utilizing our data to provide accurate landed cost information. Our data and services provide faster deliveries and fewer border delays. GDM helps multi-national companies increase the informational value of trade data and the productivity of global trade staff to reduce operating costs, improve customs compliance, accelerate supply chain speed and maximize the return on investment of this corporate function. Areas of expertise include customs classification research, customs auditing and trade data analytics/business intelligence.
Working in conjunction with GTM applications, Global Data Mining and CUSTOMS Info's strategic partners include SAP, Oracle, and other trade software partners. Please visit http://www.customsinfo.com, http://www.gdmllc.com for more information.