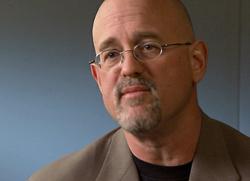 Stumbling on Happiness is a psychological detective story about one of the great mysteries of our lives. If you have even the slightest curiosity about the human condition, you ought to read it. Trust me."—Malcolm Gladwell
Salt Lake City, UT (PRWEB) April 14, 2012
Harvard University psychology professor Daniel Gilbert will address Salt Lake Community College students about his research on happiness. The headline event of the College 4th annual Psychology Symposium, his speech will take place on April 17 at 10:00 a.m. in the Student Event Center on SLCC's Taylorsville Redwood campus.
Gilbert's research on "affective forecasting" investigates how well people can make predictions about the emotional impact of future events. He has won numerous awards for his teaching and research—from the Guggenheim Fellowship to the American Psychological Association's Distinguished Scientific Award for an Early Career Contribution to Psychology. Gilbert lists as his own greatest accomplishment, though, his appearance just before Dizzie Gillespie on the list of Most Famous High School Dropouts.
Nicknamed 'Professor Happiness', Gilbert and his research has been covered by publications such as The New York Times Magazine, Forbes, Money, CNN, U.S. News & World Report, The New Yorker, Scientific American, Oprah Magazine, and Psychology Today. Gilbert's short stories have appeared in numerous anthologies, including Amazing Stories and Isaac Asimov's Science Fiction Magazine.
His address is free and open to the public.
About the College: Salt Lake Community College is an accredited, student-focused, urban college meeting the diverse needs of the Salt Lake community. Educating and training more than 62,000 people each year, the College is the largest institution of higher education in Utah. The College has 13 sites, an eCampus, and nearly 1,000 continuing education sites located throughout the Salt Lake valley. Courses are offered during both traditional and accelerated semesters, during the daytime, evenings, and weekends. Personal attention from an excellent faculty is paramount at the College, which maintains a student-to-teacher ratio of less than 20 to 1.