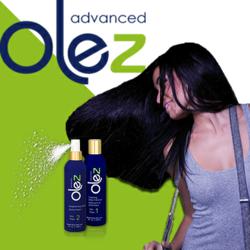 There is still so much confusion and suspicion surrounding keratin straightening products. We want to set the record straight showcasing how a truly safe (formaldehyde-free) product is effective
Boca Raton, Florida (PRWEB) April 17, 2012
Boca Cosmetic Group invites hair care distributors and salon professionals to experience the difference with Olez Advanced® on April 22-24 (booth 327) at the International Beauty Show ( Jacob Javitz Convention Center in NYC). At the show there will be product demonstrations and free certification for professionals as well as giveaways. Olez Advanced® will feature the latest keratin technology unlike any other treatment on the market.
Gisela Basilio, Executive Director of Boca Cosmetics Group says, "Our goal is to educate on the floor, this is so important as the market for keratin has significantly changed over the past 2 years. There is still so much confusion and suspicion surrounding keratin straightening products. We want to set the record straight, showcasing how a truly safe (formaldehyde-free) product is also effective and how it minimizes the time a stylist is behind the chair. In addition, how much more applications they will get from our sprayable technology when compared to competing brands. We will answer the big question, WIFM (what's in it for me?) in our live demos taught by top hair stylists. More importantly, they will see results their clients will love." At the IBS show Olez Advanced® will provide tools to help stylists grow their business, including a Mentor Program which enables industry professionals to further increase their profit and take their business to the next level. Free Certification on the show floor will also include their starting capital (worth up to $400.00) .
For those not attending the show, professionals can get the same benefit by registering and getting Certified online on OlezAdvanced.com and additional savings when they connect with us using Facebook.
About Boca Cosmetics Group
Boca Cosmetics Group is a quality hair care manufacturer for leading hair care brands as well as brand owner. Boca Cosmetics Group specializes in keratin products and is leading the way with innovative and safe products for Professionals and Consumers.