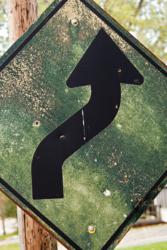 Though mold can't eat away road signs, it can surely damage them.
Indianapolis, IN (PRWEB) April 17, 2012
Road accidents happen. However, with roadside signs, their number can be lowered. In Lower Saucon Township in Northampton County, Pennsylvania though, signs are covered with green mold. As it makes the signs unreadable, concerned aroused over the mold presence. To help officials resolve the problem safely and effectively, Mold-Removal.biz suggested the use of green mold removal products.
In a report from Patch.com, the town's Council President, Glenn Kern, expressed that he wants the moldy signs cleaned. Although he acknowledged that it is the Department of Transportation that's responsible for the maintenance of the signs, still he wanted their council to do something about it.
Just like the Lower Saucon Township, reportedly, the same problem occurs in Upper Saucon Township. That's according to Tom Maxfield, Kern's vice president. To solve their own "moldy signs" problem though, their township manager Jack Cahalan said he will explore available solutions.
Here is an excerpt from the report Lower Saucon Township Seeks Solution for Mold-Free Signs from Mold-Removal.biz
"Road signs are a big help to avoid car accidents. That is, if you read them. But what if you can't read them? Now, who's to blame if you run 80 mph in a road with 60 mph speed limit? Should you blame the Department of Transportation or probably, the green mold?
Well, sadly, in many areas the blame is primarily on the mold. But isn't it the responsibility of the DOT to maintain the clarity of the road signs? No matter though, mold just had to be cleaned off those signs. Glenn Kern, Council President of Lower Saucon Township in Northampton County, Pennsylvania thinks so too."
Read more about Lower Saucon Council Makes Move to Rid Mold Off Road Signs at: http://www.mold-removal.biz/time-clean-moldy-road-signs.htm
Though mold can't eat away road signs, it can surely damage them. And because it can specifically make them unreadable, accidents can occur. To avoid road mishaps, mold removal must be implemented on moldy road signs said Mold-Removal.biz.
Nonetheless, the site does not recommend the use all mold removal products for the remediation process. As it stated, several mold sprays could harm the health with their chemical ingredients. And so, it only suggested the use of an organic-based mold remover.
Know the best mold removal product to purchase. Go to http://www.mold-removal.biz today.