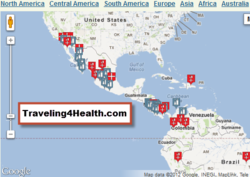 The interactive map provides a bird's-eye view of how many places in the world are popular destinations for medical travel and retirement
Seattle, Washington (PRWEB) April 17, 2012
Traveling4Health & Retirement premieres 1st ever interactive navigation map of overseas medical resources with searchable destinations for medical travel, retirement living and vacation travel for baby boomers, expatriates, and journeyers around the globe.
America's leading travel resource for discovering vacationing, destination locations, international health, and medical travel news, Traveling4Health & Retirement unveils first ever online travel and tourism map for travelers, baby boomers, and everyone seeking affordable alternatives to the rising costs of healthcare while learning about the many advantages of international travel.
Thoughtfully planned international travel can require keen organization observing the many cultural, environmental, and economical variants comprising international tourism. Medical tourism requires even greater travel planning when restorative health or recuperative treatments are necessary. Considering personal health conditions and gathering information about the foreign patient experience in destination locations are vital steps to ensure a successful trip.
Traveling4Health & Retirement introduces a new resource for destination locations and medical tourism with the Traveling4Health interactive travel map on the Traveling4Health & Retirement home page. Travelers and tourists interested in finding destination cities for relaxation, recuperation, or health and wellness can click anyplace on the THR travel map and access information about preferred areas for travel. Readers can find timely dialogue about places to visit with useful regional descriptions.
"The interactive map provides a bird's-eye view of how many places in the world are popular destinations for medical travel and retirement," said a THR spokesperson, "and you can zoom in for detailed descriptions and reports on each location."
Traveling4Health & Retirement is dedicated to inspiring global and regional travel for wellness and recuperative health. THR encourages travel to explore the many choices available for retirement overseas including vacationing and medical travel. The Traveling4Health radio program "Know before You Go" speaks with experts in science, medicine, and world travel exploring the new frontiers of medical and destination travel.
The THR interactive travel map is the latest travel destination resource to facilitate greater travel exploration with succinct regional and location information of cities to visit around the world.
The definitive resource in global health and international trekking, Traveling4Health & Retirement presents the newest achievements, advancements, and developments in vacationing, retirement and destination travel. Travelers, medical professionals, and people desiring to learn more about Traveling4Health & Retirement's growing user community and health providers may visit Traveling4Health & Retirement at http://www.Traveling4Health.com. Persons or care providers interested in becoming a member with Traveling4Health & Retirement's online community should contact Ilene Little at +1.888.844.1005; Fax: +1.888.844.1005; Skype at Ilene.Little for additional information.