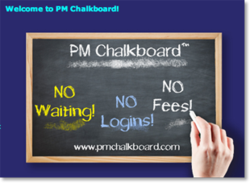 Seattle, WA (PRWEB) April 16, 2012
All videos are completely free to view and no login is required. Some popular tutorial titles include:

Responsibility Assignment Matrix Explained
Stakeholders: And Why You Need Them
Cost Management Basics
Projects, Programs, and Portfolios
And many more…
If you are ready to learn project management fundamentals, then we encourage you to check out our new PM Chalkboard, where you can find a variety of innovative and fun video tutorials presented by the Leading Software Maniacs.
In addition to these training videos, Leading Software Maniacs provides impactful one-day seminars, which are led by an experienced instructor in a live classroom setting. Our most popular one, http://www.leadingswmaniacs.com/seminars.html, is coming soon to Asheville, NC on May 11, 2012, Orlando, FL on May 23, 2012, and Boulder, CO on Sep 5, 2012. It is also being presented at the upcoming Better Software/Agile Development Conference West in Las Vegas, NV, in June. You can also see Leading Software Maniacs in action on May 7, 2012 at Asheville's incredible Grove Park Inn, hosted by Meet the Geeks, http://www.meetthegeeks.net. The keynote presentation at that event is called "The 7 Deadly Habits of Ineffective Software Managers."
Ken Whitaker, of Leading Software Maniacs, has written a number of unconventional leadership books, like PM Chalkboard, that keep the message direct, simple, and humorous. Titles currently available are "I'm Not God, I'm Just a Project Manager," "Principles of Software Development Leadership," and "Managing Software Maniacs."
We encourage you to take advantage of our free videos, which are available at http://www.pmchalkboard.com, to see how all of our incredibly easy to understand project management fundamentals are just a click away. Further information about seminars, keynotes, and books can be viewed at http://www.leadingswmaniacs.com.