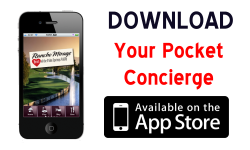 The new Relax Rancho Mirage digital platforms provide tremendous value for visitors, locals, and local businesses
Rancho Mirage, CA (PRWEB) April 17, 2012
The City of Rancho Mirage announces the launch of its new website at http://www.relaxranchomirage.com and an interactive smart phone App at app.whereisranchomirage.com. Partnering with Orange County-based, Talent Evolution, Rancho Mirage commissioned these new digital platforms to showcase all the city has to offer for business and leisure travelers and ensure travel planning platforms that are fun to interact with and simple to access.
Showcasing the destination's amenities from hotels and vacation rental properties, to where to dine, to where to meet and where to play, the Relax Rancho Mirage website offers a one-stop shop for planning business or pleasure travel to Rancho Mirage located in the "Heart of the Palm Springs Valley". A new blog featuring local bloggers Rex and Reba Masterson, Diana Dodge and Potter Palmer offers visitors near and far the opportunity to keep a finger on the pulse of what's happening in Rancho Mirage, like the recent LPGA Kraft Nabisco Championship Golf Tournament which took place last month.
The FREE mobile App may be downloaded from iTunes or Google Play for Android devices and offers on-the-spot concierge service to find everything from the hottest concerts, local golf information, maps/directions, restaurant reviews/reservation services through Yelp.com and more. App user, L. Briseno, commented: "Love this app! Downloaded this app in preparation for my trip to Rancho Mirage. Can't wait to use it out there. So far it seems really easy to use and offers helpful info."
The City's new tourism website makes pre-trip planning a snap and the free smart phone App serves visitor's as a pocket concierge while in town. "The new Relax Rancho Mirage digital platforms provide tremendous value for visitors, locals and local businesses", says Robert Barrett, Marketing Manager, City of Rancho Mirage. Barrett adds, "And our bloggers are amazing; they provide insider hot tips on what not to miss while vacationing in Rancho Mirage and the Palm Springs Valley."
Relax Rancho Mirage is the official travel and tourism site for Rancho Mirage, CA and can be experienced at http://www.relaxranchomirage.com or on Facebook at http://www.facebook.com/RelaxRanchoMirage.
ABOUT THE CITY OF RANCHO MIRAGE
Located in the heart of the Palm Springs Valley, Rancho Mirage offers outstanding accommodations, activities, and events—as well as first-rate dining, nightlife, and retail options to the modern traveler. The city is nestled at the base of the Santa Rosa Mountains, with convenient access to both Palm Springs International Airport (situated less than 12 miles away) and the Southern California freeway system, one of the most extensive transportation networks in the world, via Interstate 10.
ABOUT TALENT EVOLUTION
Talent Evolution is a digital marketing and social media agency that provides a full suite of solutions for businesses to successfully create and manage online and social media marketing. Through consultation, training and/or complete project management, Talent Evolution helps businesses truly evolve and get ahead in the competitive digital and social media world.
###