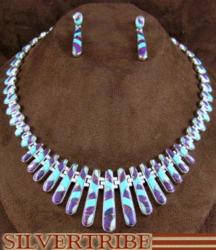 We have something for every style and every budget
Scottsdale, AZ (PRWEB) April 15, 2012
The web's largest retailer of Native American and turquoise jewelry, SilverTribe.com, is continuing to expand its collection at prices well below the industry average.
The latest additions include turquoise and coral clip rings, elegant bracelets and one-of-a-kind necklaces.
"We have something for every style and every budget," said SilverTribe's spokesperson. "Our newest products just went live and they are some of the most dazzling examples of American Indian jewelry around."
Since 2001, SilverTribe.com has been known for its ability to provide consumers with unique, top-quality turquoise jewelry at a great price. Visitors can browse jewelry and art by tribe to experience a vast inventory of Navajo, Hopi and Zuni styles, to name just a few. Each tribe's distinctive styles and history is captured in an ever-expanding online catalog.
The company's selection of jewelry and art features materials and stones that make southwestern turquoise necklaces, bracelets, rings and pendants some of the most sought after accessories on the market. SilverTribe.com puts a primary focus on quality and elegance to match any occasion.
Anyone can browse this collection of traditional and contemporary themed art and jewelry featuring shapes that hold important cultural significance, such as animals and plants. The techniques used to make top-quality American Indian jewelry has ben passed down through the years and each generation adds its own flair.
Turquoise jewelry is among the most popular products available and SilverTribe offers the highest quality stones in several shades and styles. To learn more about this massive collection of Native American jewelry and additional products, visit http://www.silvertribe.com.