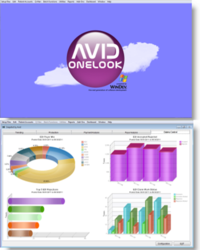 Avid's singular focus is the development, delivery, and service of high quality solutions designed specifically for the business of anesthesiology
Atlanta, GA (PRWEB) April 16, 2012
Avid Anesthesiology Solutions (Avid) introduces its latest entry into the specialized field of anesthesia billing and practice management during the 2012 MGMA/AAA (Anesthesia Administrators Assembly) meeting in Scottsdale, AZ. OneLook™ 4.0 extends Avid's reputation for the delivery of innovative technologies with the integration of their traditional Microsoft based deliverables with WinDev™, a 5GL, Multi-Platform development environment, from PCSoft™. In addition, OneLook™ 4.0 incorporates a new, user-configurable "dashboard" that allows anesthesia practices the ability to quickly review key practice metrics in order to ascertain the financial health of their business.
Jack Mayo, President of Avid states, "Avid has long been an innovator in the unique space of anesthesia billing and practice management. By incorporating WinDev™ into our current offering, we are providing our clients with a technology roadmap that includes the opportunity for future, multi-platform, Desktop, Web, and Mobile applications, while simultaneously continuing to enhance the software that our clients have come to love and depend on."
"After an exhaustive search, WinDev™ was the clear choice for Avid's forward looking efforts. WinDev™ allows the creation of Java, .Net, Web services and other standard executables from a single Integrated Development Environment (IDE). Additionally, having the ability to reuse assemblies created with other standard development languages offers Avid the ability to integrate 'best-of-breed' solutions into a single deliverable," says Jeff Teasdale, Avid Vice President.
Cutting though the jargon, these new tools are powerful, flexible and will allow Avid the ability to develop applications faster than ever, without compromising the pursuit of delivering the most operationally efficient solutions available.
Avid is based in Roswell, Georgia, a suburb of Atlanta. For over a decade, Avid has delivered tier-one software solutions exclusively to the specialty of anesthesia. For more information, contact Jack Mayo at (770) 495-8005. Visit their website at http://www.avid-anesthesiology.com
WinDev, Microsoft, Java and .Net are registered trademarks of their respective owners.