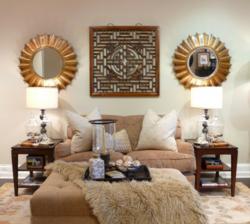 Geneva, IL (PRWEB) April 16, 2012
Geneva Designer Heideh Fardi is proud to announce "Uncovering the Art Within" - John Showalter Solo Exhibit at Simitree Fine Home Furnishings and Consignment.
This solo Exhibit is the latest addition to her extensive family of local artisans featuring wood-working, art, pottery, hand-crafted furniture and jewelry. Debuting at the Simitree Showroom (this week!) is a very comprehensive and elegant new line of precision custom woodturning pieces from the "Bowled Expressions" collection. The extensive collection includes vases and Hollow Forms, Serving Dishes, Burls and Boxes created in rich wood species like Spalted Maple, Spalted Oak, Birch, Cedar and Walnut to name a few.
Meet John Showalter in person on Saturday April 21st from 12-4 pm at the Simitree Showroom for a conversation on what inspires him and a viewing of select pieces available for sale through May 31, 2012.
The lush exquisitely made pieces will coordinate with Simitree's design principle of "designing with items you love" which have been incorporated into many of her client's art collections and room settings.
See example of these items on Simitree Fine Home Furnishings Facebook page .
For additional press information on Heideh Fardi and Simitree Fine Home Furnishing, please contact Haleh at haleh@simitree.com or 949-929-9126. Look forward to seeing you at the event!
About Simitree Fine Home Furnishings and Consignment -
Owners Heideh and Haleh Fardi opened their first shop on State Street in Geneva, IL in March of 2008. They called this special place Simitree and there, they have created a shopping sanctuary of impeccable and eclectic pieces selected from their most exclusive resources. They are determined that each treasure in their shop would have a particular charm and a textured history all of its own. Each item is created for the enjoyment of living. Today, Simitree continues to serve as the Design Studio for Heideh Fardi and the local hotspot where they unveil home décor and accessory collections which enable designers and home design enthusiasts to update their homes in true fashion.
Simitree Fine Home Furnishings and Consignment
524 W. State Street, Geneva, IL 60134
Phone: 630-262-3800
http://www.simitree.com