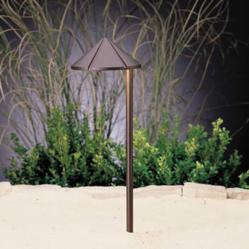 San Mateo, CA (PRWEB) April 17, 2012
Earth Day is a day of action just as much as it is a day of celebration. With this in mind, Kichler Superstore, a leading online source of indoor and outdoor lighting fixtures, invites consumers to celebrate by using light-emitting diode (LED) lighting at home. Visitors to the company's website will be able to purchase Kichler LED lighting fixtures at reasonable prices.
LED bulbs have been found to be more energy-efficient than other lighting sources. A well-designed LED circuit will convert 80% of the electricity fed to it into light, the remaining 20% being converted into heat. In contrast, regular light bulbs operate at just 20% efficiency. Whereas the average incandescent bulb lasts 1,500 hours, LED lights have an average life span of 60,000 hours. This is equivalent to more than six years of round-the-clock usage. The power consumption of an LED bulb during the course of its lifetime is around 360 kilowatts, one-tenth of the average lifetime energy usage of an incandescent light.
Aside from being energy-efficient, LED bulbs are made of safer material than regular lighting. For example, a typical fluorescent bulb might contain mercury – a neurotoxin – and incandescent bulbs contain halogen gases. LED bulbs withstand impact better than traditional bulbs that shatter when dropped or banged, leaving dangerous shards of glass. Also, since incandescent bulbs generate significant amounts of heat, they tend to be fire hazards if handled incorrectly.
LED lights can be used virtually anywhere due to the power relative to their small size. Their brightness depends on the electrical power passing through them, giving the lights great variability in use. Installation is also easy, as most LED lighting fixtures do not require unscrewing.
Current uses of LED lights include traffic signals, flashlights, and home appliances. With Kichler Superstore's current offerings, LED fixtures are now available for home use. The company's LED lighting options come in a wide variety of shapes and sizes, including numerous Kichler outdoor lighting fixtures. Due to their longevity and durability, users will be able to reduce their carbon footprint even beyond Earth Day.
####
About Kichler Superstore:
Kichler Superstore is the dedicated Kichler products store by Veritas Lighting, the lighting arm of Veritas Commerce. Kichler Superstore sells the complete selection of high-quality lighting fixtures and ceiling fans manufactured by Kichler. They sell exclusively online through http://www.kichlersuperstore.com.