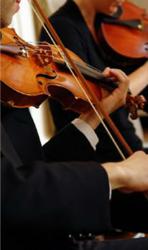 We think of our winemaking as a fine art, so naturally art and music play an integral role in the overall experience of enjoying our wines
Geyserville, CA (PRWEB) April 14, 2012
Starlite Vineyards, the premier Sonoma County boutique winery, will host its second annual Early Music Series on Sunday, April 29 from 2 to 3:30 pm in its wine tasting room. Connoisseurs will enjoy the refined textures and beguiling aromas of Starlite wines accompanied by a baroque repertoire performed by master Sonoma County musicians.
Admission to this cultural celebration is free for Starlite Vineyards wine club members. All others are invited to purchase tickets for only $25 at http://www.starlitevineyards.com.
Art is a significant part of what makes Starlite Vineyards unique. Paintings from masters of American contemporary art adorn the tasting room walls and embellish the labels of Starlite's92 Point Zinfandel, Cabernet Sauvignon and Viognier bottles. Just like these fine art pieces, each award-winning varietal is artfully crafted at Starlite Vineyards from select grapes grown in the unique soil and microclimate of Alexander Valley in Somoma County.
"We think of our winemaking as a fine art, so naturally art and music play an integral role in the overall experience of enjoying our wines," said Arman Pahlavan, owner of Starlite Vineyards. "We host our annual Early Music Series to complete that sensory experience and submerge wine enthusiasts in the artistic culture of Starlite."
To complement Starlite Vineyard's European style wines, the baroque repertoire will perform scores from composers like Bach, Weiss, Prez, Couperin, Marais, Abel, Vivaldi and Lully. The musicians include Gary Digman on guitar, viola da gamba, and lute, Julia Gennert on the harpsichord, John Konigsmark on the violin, and Gael Reed lending stunning soprano vocals.
The Early Music Series began on Memorial Day Weekend in 2010 with performances from classically-trained musicians from the San Francisco Conservatory of Music. This is the first year Starlite Vineyards will showcase musicians from Sonoma County as a way to spotlight the artistic talents of the local community.
Early Music Series at Starlite Vineyards:
Date: Sunday, April 29, 2012
Time: 2:00 - 3:30 p.m.
Location: Starlite Vineyards Tasting Room, 5511 Highway 128, Geyserville, CA 95441
Price: $25 to the public and complimentary to wine club members
Tickets: starlitevineyards.com
For more information about Starlite Vineyards, the Early Music Series, or Sonoma wine tasting events, call (650) 464-7154 or visit starlitevineyards.com. For information on how to become a wine club member, call (707) 239-5174. Stay connected with Starlite Vineyards at facebook.com/starlitevineyards and @StarliteVine.
About Starlite Vineyards
Starlite Vineyards is a winery and vineyard estate located in Sonoma County's famed Alexander Valley. The wines are European style and have the following of the sommeliers at top establishments throughout the United States, who have hailed the Sonoma County Cabernet Sauvignonand Viognier as the most expressive of the varietals. The vineyard was awarded a remarkable 92 Point for its 2006 Zinfandel from Wine Enthusiast.
With the inauguration of its public tasting room, Starlite Vineyards has become a top destination for wine enthusiasts, has now been placed on every Sonoma winery map, and offers an ideal setting for wine tasting, Sonoma County wine tours, and weekend getaways. The Tasting Room is open to the public Wednesday-Sunday from 11 a.m.-5 p.m. and on Mondays of major holidays.
Wines from Starlite Vineyards are available for purchase online and include free shipping.