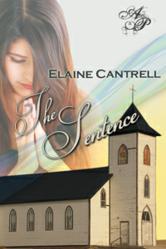 I really enjoyed Elaine Cantrell's new book. It goes to show that you don't have to scrape the bottom of the bin to write an excellent romance. A great book at a great price.
Pickens, South Carolina (PRWEB) April 18, 2012
The Sentence-a Christian romance novel published by Astraea Press-was released on March 22, 2012. In this book Elaine Cantrell explores how a mistake led to a new life for two people. The following is a summary of the book.
For a hundred years the little white church called Saved By Grace pointed the way to Heaven for the congregation.
Then, Clint Hayes stopped in the parking lot to throw away a beer bottle and have a cigarette. It made him cough, so he threw it away too, right into the azalea bed near the front door.
Aided by a fingerprint on the beer bottle, the authorities arrested Hayes for arson, but it soon became apparent he hadn't meant to burn the church. Everyone expected him to spend a few months in jail, but the judge had a better idea.
He sentenced Clint to six months under the care of Rev. Neal Amos, the minister of Saved By Grace, a move Amos's daughter Rachel isn't happy about. Why didn't her father let this criminal go to jail? That's what he deserved.
But as Rachel gets to know him, she finds herself falling for a man with no education, family, or faith. And he's falling for her too.
This can't have a happy ending, right? Nice girls don't fall for guys like Clint. Do they?
The Sentence is available at Astraea Press, Amazon, or Barnes and Noble.
Price: $2.99
About the author:
Elaine Cantrell was born and raised in South Carolina. She has a Master's Degree in Personnel Services from Clemson University and is a member of Alpha Delta Kappa, an international honorary sorority for women educators. She is also a member of Romance Writers of America and Epic Authors. Her first novel A New Leaf was the 2003 winner of the Timeless Love Contest and was published in 2004 by Oak Tree Press. At present she teaches high school social studies. She spends her spare time collecting vintage Christmas ornaments, reading, and playing with her grandchildren. Visit Elaine at her website: http://www.elainecantrell.com