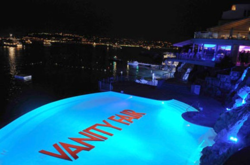 (PRWEB) April 16, 2012
The Cannes film festival is your chance to mix and mingle with stars and the glitterati from across the globe on the picturesque Cote d' Azur. The utterly glamorous film festival will be held from May 16th to May 27th 2012 where films around the world will be competing for the most prestigious film award, the Palme d'Or.
Cannes is known for drawing the crème de la crème of he jet set crowd with festivities, fine dining and red carpet events fit for the A-List. Music and Commerce the premier luxury concierge agency has compiled an Insider's Guide to the Cannes Film Festival to give you the scoop on where to eat, stay and chill in style.
How To Fly
Air France, Le Premier
La Première takes on the allure of a private lounge the cabins are designed to be a haven of well-being, combining aesthetics and technology. With direct flights and lavish French hospitality in the sky, Air France has been a favorite of many visiting Cannes. (Air France, http://www.Air-France.us)
Freestream Private Jet Charter
Make flying a luxury rather than an obligation and fly private. Freestream offers one of the world's greatest and exceptionally maintained fleets. The most qualified pilots in the industry operate the aircrafts and are staffed with a first-rate crew that provides superior quality service. (Freestream, http://www.Freestream.com)
Where To Stay
Carlton Cannes
The InterContinental Carlton Cannes is ideally situated on the famous "La Croisette" Boulevard, close to the Cannes Palais des Festivals and the famous shopping district. The hotel faces the Mediterranean Sea and offers breathtaking views over the Bay of Cannes. The world-class service and truly opulent French style décor will make you swoon. (Carlton Cannes, 58 La Croisette, +33-4-93064006)
Hôtel Majestic Barrière
As one of the most stylish five star hotels in Cannes, The Hôtel Majestic Barrière is known as the "film industry's second home." The hotel which faces the Palais des Festivals offers everything from lavish interiors, three five star restaurants, a screening room and designer boutiques from top tier French designers including Chanel. Guests can also enjoy the hotel's private beach and take part in water sports or just lounge on a sun bed after a dip in the pool. (Hôtel Majestic Barrière, 10 Boulevard de la Croisette)
Hotel du Cap Eden-Roc
Hollywood royalty who want to hide-out from the paparazzi flock to the majestic Eden-Roc hotel. Located on Cap d'Antibes coast, just on the outskirts of Cannes, Eden-Roc provides five-star amenities and killer views of the bay. When the sun sets, the pool at Eden-Roc transforms as the premier party destination for celebrities and socialites. (Hotel du Cap Eden-Roc, +33 (0)4 93 61 39 01)
Private Villas
Many of our clients enjoy staying in luxury private villas that are fully furnished and fully staffed during the film festival. Not only does a private villa ensure privacy, they also make after-parties and dinners much more intimate. Music and Commerce has access to some of the most beautiful villas in Cannes, many which are right on the water with a gorgeous bay view. For more information please contact us.
How To Get Around
Chauffeured Car Service
Getting around Cannes during the film festival is an art and it is best to have an experiences chauffer to take you form one fabulous party to the next screening. We love the Ritz car group for their impeccable chauffeured car service and an incredible selection of luxury cars. (Ritz Car, Ritz-Car.com)
Where To Eat
La Mère Besson
Mere Besson is one of the most beloved Cannes restaurants that have thrived since the 1930's. The restaurant is known for keeping Provençal traditions. Many stars venture out to this Cannes gem for French favorites like the estouffade provençale, braised beef with red wine topped with a rich sauce made from herbs, garlic, mushrooms and onions. (La Mère Besson, 13 rue des Frères Pradignac +33 4 9339 5924)
La Palme d'Or
Located in the Martinez Hotel, La Palme d'Or is one of Cannes best restaurants. With 2 Michelin stars and a 17/20 rating in the GaultMillau restaurant guide, the La Palme d'Or is apart of the highly coveted circle of the best establishments in France. Chef Christian Sinicropi delights patrons' senses with rich daring food and a menu that changes with the seasons. Be prepared to dine alongside celebs, moguls and royalty.
Vesuvio
Conveniently located on Croisette between the Martinez and Carlton, Vesuvio has it all. From great food, great service and great vibes, the restaurant named after an infamous Italian mountain is an explosion of Italian flavors. (Vesuvio, +33 4 9394 0828)
Where To Chill
Baoli
Where will you find the hottest mélange of the hottest actors, musicians and beautiful people from Akon to Adrien Brody. The Cannes hot spot has been named one of the top clubs by ELLE magazine and is attended by many celebrities during the film festival. (Baoli, http://www.lebaoli.com)
Nikki Beach
During the entirety of the film festival, day & night, Nikki Beach will take up residence in two Cannes locations on La Croisette inside the Palais Stephanie, offering premiere parties and international renowned DJs. Nikki Beach is the go to location for Cannes parties and has hosted everything from a Gala Dinner for Les Etolie and a premier for Roman Polanski to the official closing party for the Cannes Film Festival. If you would like to party with the who's who of the film industry Nikki Beach is the place to go.
Can't Miss Cannes Events
Opening and Closing Ceremonies
The extravagant opening and closing ceremonies are star studded exclusive events which are mostly reserved for those receiving awards and VIPs. If you would like to attend these exclusive events please email us for more information.
AmFar Cinema Against AIDS at Cannes
The 19th annual Cinema Against AIDS during the Cannes Film Festival, is a black-tie event featuring a cocktail reception, dinner, and live auction. Cinema Against AIDS events are always marked by unforgettable moments: from Sharon Stone dancing along to an impromptu performance by Sir Elton John and Ringo Starr, to George Clooney bestowing a kiss on a lucky auction bidder, and Mary J. Blige bringing the crowd to its feet during a moving rendition of U2's anthem "One." This year the event will be held on May 24th.
Vanity Fair Party
Whether it's the Oscar's or The Cannes Film Festival, Vanity Fair never disappoints with a night to remember that is studded with the biggest stars.
Chopard Annual Trophée Party
Every year during Cannes Chopard honors young talent. The elite crowd that joins in on the festivities that follow usually held at the Martinez Hotel include leading film industry members from Robert Di Nero to Marion Cotillard.
Art of Elysium GALA
The non-profit organization, Art of Elysium encourages actors to spend their free time helping children who are battling life-threatening illnesses. Every year they throw a lavish gala benefitting the charity and draw a crowd of A-Listers.
All of the featured experiences can be arranged and customized for you by a Music and Commerce representative by emailing info@musicandcommerce.com or via phone at 1-866-70-WORLD
About Music and Commerce:
Music and Commerce is one of the top international luxury marketing and luxury concierge agencies based in New York that caters to every detail of the affluent lifestyle. Music and Commerce possesses personal relationships and exclusive access to the most prestigious luxury corporations in the world. Clients include international C-level executives, celebrities and socialites.
###