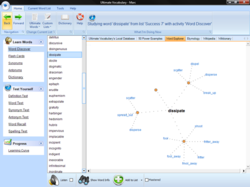 Canberra, Australia (PRWEB) April 15, 2012
With a new study into bi-lingual children underway, funded by the U.S. National Institutes of Child Health and Human Development, Ultimate Vocabulary™ is delighted to announce its full support.
The research is studying 104 children aged six years old, comparing English-only speakers with those speaking two or more languages.
So far, the study has concluded that bi-lingual children are better multi-taskers than those speaking only one language.
Marc Slater, Managing Director of Ultimate Vocabulary™, fully supports the study:
"It is vital that we learn more about how children adapt to multiple languages" says Slater, whose company produces software to improve vocabulary.
He continues, "The United States contains such a variety of single and multi-lingual children. This is bound to have an effect on other cognitive abilities so I am delighted to hear about the latest study."
The results from the Institute's research is to be published in the journal Child Development, following tests carried out at the University of York in Toronto, North of the United States border.
A news release from the National Institute of Health reported that, "In simplest terms, the switching task is an indicator of the ability to multi-task."
"Bilinguals have two sets of language rules in mind, and their brains apparently are wired to toggle back and forth between them depending on the circumstances," they added.
According to Slater, the future of vocabulary development tools could be shaped by similar research.
"When developing software to aid vocabulary, we are always looking to design it for optimum use. If multi-tasking is an ever-evident pattern, we will of course design future versions of our software to incorporate elements of multi-tasking. This will hopefully help children learn vocabulary faster and with greater proficiency" he explained.
In the meantime, the research continues.
For more information on Ultimate Vocabulary™, please visit: http://www.ultimatevocabulary.com/
******
About Ultimate Vocabulary™
Ultimate Vocabulary provides a proven and powerful platform, built to improve anyone's vocabulary.
The interactive self-improvement system provides more learning tools than any other program on the market, as well as more information on words.
The Ultimate Vocabulary software provides each and every user with a personal computer tutor. Providing a step-by-step guide to learning a powerful vocabulary, Ultimate Vocabulary is the learning tool everyone can benefit from.
Of course, the software is also backed by eReflect's iron-clad money back guarantee.