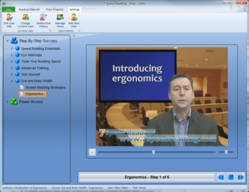 Canberra, Australia (PRWEB) April 16, 2012
In recent years, electronic readers have become more prevalent. In fact, sources such as Amazon now report selling more electronic versions of books than their traditional hard-copy cousins. With this in mind,7 Speed Reading™ has officially declared War of the Readers.
The software, known the world over for improving reading speeds, is curious to find out which device users feel comes top of their lists.
Marc Slater, Managing Director and creative brain behind 7 Speed Reading™, explains why he chose to lead the battle.
"A quick glance around any electronics store quickly becomes a flood of options when it comes to e-reading devices" he says.
Continuing, "We really want to find out which device people feel wins over the competition. As with any electronic item there is always one which leads the market. We want our users to helps us identify the king of the e-reading castle."
One would naturally think that the Apple iPad or Amazon Kindle would instantly rise to the top. However, the e-Reader market throws up a myriad of other potential winning devices.
These include the Barnes & Noble Nook e-Reader, Plastic Logic, Kobo eReader Touch and the brand new Mobipocket eReader.
Users are invited to compare features such as screen brightness, contrast levels, word clarity, battery life, storage capacity and of course, price.
"There are so many things that can be compared. We are confident that our users will eventually decide on a winner. This will help us better understand the reading market and assist with future developments of our popular 7 Speed Reading software" Slater adds.
Users are invited to visit the 7 Speed Reading website and submit feedback via the information found on the contact page.
The official 7 Speed Reading™ website can be found at: http://www.7speedreading.com
About 7 Speed Reading™
7 Speed Reading is the only modern speed reading software that uses the latest technology to produce superior results.
The software provides its users with a new way to master speed reading that guarantees three times the reading speed along with improved memory and comprehension.
The software is poised as the most comprehensive speed reading system anywhere. It contains seven learning strategies, fifteen software activities, video training, advanced tracking capabilities and many more exciting features.