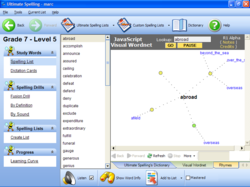 Canberra, Australia (PRWEB) April 17, 2012
This week sees the start of 2012's African American National Spelling Bee Championships at Horace Man Middle School in South Los Angeles. As the fierce competition gets underway, the company behind a leading spelling improvement software package sends competitors their best wishes.
In fact, there is a good chance that some of those taking part in this year's competition used the software to improve spelling prior to the event.
"Spelling Bees are always a lot of fun. It is great to see all cultures holding events, and we would like to offer our best wishes of support to those competing in this year's competition in California" says Marc Slater, who owns the company that produced Ultimate Spelling™.
He continues, "It is vital that we find fun ways for children to learn and improve on their spelling. Software packages are an awesome learning tool to which young people can really relate. However, nothing beats the excitement and competitive spirit offered by a live spelling bee."
The event in Los Angeles will last for six days. During this time, hundreds of children will try their hand at verbally spelling some of English's fiercest words – with just one child ultimately crowned the winner.
Sponsorship is being provided by African-American-oriented news and information website News in Black.com and the Los Angeles Wave and Los Angeles Independent newspapers.
The event is open to the public – with large crowds expected as the event nears its climax the following weekend.
"Of course, only one person can win, but everyone involved will benefit from the self-confidence they will gain. This only comes with taking risks in order to improve one's spelling. We are thrilled that the event is taking place and we'll be watching it closely, as it happens" Slater concludes.
******
About Ultimate Spelling™.
Ultimate Spelling provides a modern and easy to use spelling software that has been designed with one goal in mind – making children WANT to learn.
It is a fast and easy way to master even the most complicated spelling, without the need to write long lists or complete boring tests.
In fact, Ultimate Spelling provides more than just spelling help. It is a complete educational resource that boosts all level of a child's literacy.
Containing a personal computer tutor, Ultimate Spelling is the most realistic step-by-step guide to flawless spelling ability.