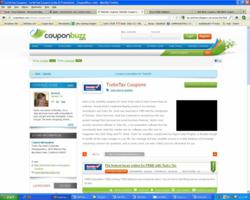 If you are one of those individuals who need some extra time to get all your ducks in a row, filing a tax extension is the best way to go.
Houston, TX (PRWEB) April 14, 2012
The IRS projects that more tax extensions than have ever been filed before will be filed in the year 2012, and the number is expected to continue to rise in the following years. With only this weekend left for taxpayers to file their 2011 taxes, many are now becoming extremely interested in filing a tax extension. Catering to this crowd of anxious citizens, CouponBuzz.com is featuring a link on their web page dedicated to TurboTax coupons to the TurboTax Easy Extension service, which allows users to file a free tax extension. Individuals who file a form 4868, Application for Automatic Extension of Time to File U.S. Individual Income Tax Return, receive a 6 month extension, making their 2011 tax return due Oct 15th. However, it is important to note this is NOT an extension of time to pay one's overall tax liability.
While plain old procrastination, a problem as old as dirt, is the culprit behind a significant number of requests for tax extensions, the temperamental U.S. economy also shoulders some of the blame. Individuals who have changed jobs frequently in the tax year can have difficulty rounding up all the necessary tax documentation from their various employers. Employees of businesses who have declared bankruptcy or simply disappeared also have unexpected complexity added to their taxes. In addition, persons in new jobs or recently unemployed are dealing with situations that are new to them, and can have difficulty figuring out how to proceed at tax time.
"If you are one of those individuals who need some extra time to get all your ducks in a row, filing a tax extension is the best way to go," explained Justin Bowen, head of marketing at CouponBuzz.com. "We're featuring a link today that directs our site customers to file a free tax extension via the TurboTax Easy Extension service. We figure the less our shoppers have to pay in tax penalties, the more spending money they have for some of our great deals."
According to statistics released by the IRS, the majority of extension filers prefer to snail mail in their tax returns, instead of e-filing. This could simply be a gap in the technological capability of late filers. For example, if a technically savvy individual has all of their necessary paperwork, it is almost as simple for them to actually file online as it is to ask for an extension. For those who are not as familiar or comfortable with e-filing, a tax extension is a the simpler route to take.
Another interesting tidbit of information is that often individuals fail to file their taxes because they assume they are not due an income tax refund. Usually this occurs because they are unaware of how much in taxes is automatically withheld by their employers from their paycheck. The IRS estimates that as much as 1.1 billion dollars remained unclaimed in the tax year 2007.
One of the most common mistakes taxpayers make is filing their federal income tax extension form and forgetting about their state taxes. A penalty and interest is still assessed to individuals who fail to file their state tax return. While these are sometimes attached to the federal extension to file, it should not be assumed that they are. Since state tax extension guidelines vary, it is important to be aware of what state forms are necessary to file for an extension. To get started filing a free federal tax extension today, find the link to TurboTax Easy Extension here http://couponbuzz.com/turbotax-coupons.html in CouponBuzz.com's new TurboTax section.