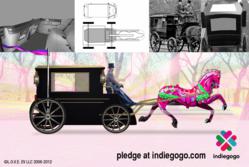 New York, NY (PRWEB) April 18, 2012
L.O.V.E. EV LLC – a consortium of notable artists, designers, engineers and entrepreneurs, led by accomplished art director Tim Baurer – has designed an electric replacement for the horse and carriages in New York's Central Park and around the world. The ingenious designs capture all of the charm and history of the traditional horse and carriage.
"We feel we've come up with an exciting option that would preserve the nostalgia of traditional carriage rides and yet be compatible with the current electric car proposal," says Baurer.
These innovative and exciting electric carriage concepts are based on the designs of the first electric cars from the early 1900's with some featuring a "moving" horse up front. Final mechanical/electrical engineering of the full-size prototype will be handled by an internationally recognized automotive specialist.
"ART IN THE PARK" Artists are being encouraged to contribute their design talents and to help paint L.O.V.E. EV's prototype. Everyone is encouraged to pledge as little as $5 to fund this project. Future plans call for a dusk parade of brightly lit vehicles emblazoned with the imaginative designs generated by the NYC art community.
Like Joseph Pulitzer's drive to fund the pedestal for the Statue of Liberty in the 1880s, L.O.V.E. EV's $5 pledge solicitation at http://www.indiegogo.com/electrichorseandcarriage can make a huge difference. Now concerned people all over the world have an opportunity to support another innovative effort.
Funds raised for this project will not only finance building a full-size replica for New York City's Central Park, but also cover the cost of transporting our prototypes to interested cities around the world.
The electric horse and carriage will transform the industry and bring it in line with the environmental and ethical concerns of the 21st century. By incorporating contemporary conveniences like WIFI, heat and A.C., private compartments, sliding glass windows and sunroofs, it will also reestablish and reinvigorate the horse and carriage industry in metropolitan centers throughout the world. In addition, it will preserve the nostalgia and romance of a glorious bygone era.
Inquiries to review the prototype are encouraged. To contribute your artistic talents or make a pledge, please visit http://www.indiegogo.com/electrichorseandcarriage
THIS PRESS RELEASE WAS UPDATED ON APRIL 20, 2012