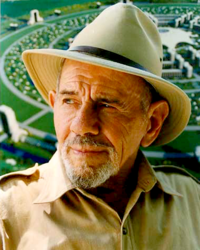 Your whole banking system's utterly corrupt. Your lending institutions have loused up the system. But there's nobody out there telling you what's wrong with it. So it looks okay to you.
~ Jacque Fresco (1974)
Venus, FL (PRWEB) April 15, 2012
This groundbreaking documentary not only identifies the root causes of many major global problems, but also recommends the steps that our species can take to solve such issues. 'Paradise or Oblivion' is available on the internet for free, in more than 24 different languages to ensure availability to all humans; race, colour or creed.
'Paradise or Oblivion' is the culmination of an astonishing 75+ years of research performed globally by what is now known as The Venus Project; founded and directed by Jacque Fresco and Roxanne Meadows.
Based largely on anthropology, the documentary also spans almost all scientific and economic fields of study in order to provide a comprehensive solution to the problems of planet Earth and its inhabitants.
The documentary is the next step towards TVP's goal of an international motion picture, for which directors and scriptwriters are currently being considered.
The Venus Project is an organization that proposes a feasible plan of action for social change working towards a peaceful and sustainable global civilization. This scientific company operates out of a 21-acre research centre located in Venus, Florida.