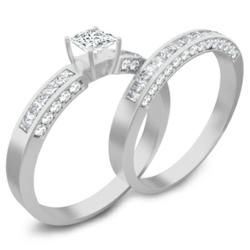 Marquise Diamond Engagement Rings are now on sale for women at cheap prices
Cockeysville, MD (PRWEB) April 15, 2012
Over the years there have been many cuts of diamond made for diamond engagement rings, and jewelocean.com respects customers' preferences and choices regarding the different options in the types of diamond cuts one can choose. Jewelocean.com is a progressive company and does not want to be left out of the markets for fancy cut diamonds. With the recent update of their collection with pear shaped engagement rings, its no wonder why jewelocean.com is announcing the release of a marquise engagement rings collection.
The marquise cut diamond dates back to the time of King Louis the XIV, known informally as "The Sun King." Designed to represent the beauty of women's smile, marquise diamonds have been around for over 4 centuries, however they are now becoming very popular has many celebrities are now sporting marquise cut diamonds on their wedding rings. The marquise cut diamond collection introduced on JewelOcean is matched to give customers beautiful marquise engagement rings, marquise diamond rings and wedding rings at affordable prices. The collection starts with ¼ carat marquise cut diamond ring which is on sale at $299. Women looking for higher carat weights would find ½ carat, ¾ carat and 1 carat marquise cut diamonds on sale at very affordable prices.
From April 13th, 2012 onwards, JewelOcean will be the home to a wide variety of marquise diamond engagement rings in several different carat weights. In addition to looking radiant, marquise diamonds appear to be bigger than their weight would suggest if compared to round brilliant, getting the look on a smaller budget. Now customers the chance to share in this marvelous cut, as beautiful now as it was when it first introduced.
JewelOcean.com is a leading online jewelry retailer, specializing in retailing diamond engagement rings at affordable and cheap prices. All purchases on the website come with guarantee certificate, with refund policy and lifetime warranty options. Customers interested in looking at the marquise cut engagement rings should visit JewelOcean.com.