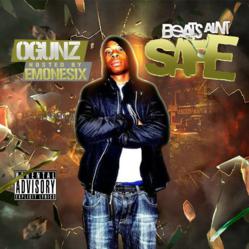 Miami, FL (PRWEB) April 14, 2012
Rap artist OGunz recently released his mixtape "Beats Ain't Safe." Presented by Prestige Clientele Management and Coast 2 Coast Mixtapes, and hosted by EMONESIX, it is now available for free download. "Beats Ain't Safe" features OGunz on tracks with guest artist appearances from Polo Moe, OE, and Sparks.
"They ain't think O had it, in and out of jail / They ain't think O manage, thought that I would vanish, like 'Oh well another talent going no where' / But talent didn't balance on my scale, neither did to fail..."
When given an excuse to fail, some people accept it and fail, and others feed off of it to succeed. Faced with trials and tribulations that would make any man crumble, Malcolm Ogunkoya, aka OGunz, chose the latter. Born with the spirit of a hustler, OGunz' musical abilities were realized as early as 1998. With natural wordplay abilities coupled with a distinct flow and voice, it didn't take long for people to take notice of the young rapper from North Brunswick, NJ. His reputation as one of the best in the area grew almost as fast as his penchant for making money. OGunz has never been afraid to keep it 100% with his listeners as he takes them through his upbringing, his experiences, and his future plans. Doing so, OGunz makes his music relatable to those who grew up with him, those who have experienced the things that he has, and those who share his same aspirations.
By always being true to himself and honest in his music, OGunz has gained a groundswell of support, including The Risk Takers movement. The Risk Takers (OGunz, Polo Moe, and Mike Twist) is a unique group of three individuals who feed off each other's energy and different experiences. OGunz can always be counted on to deliver the "Real, Rugged & Raw" which blends perfectly with Polo Moe's laid back R&B vibe and Twist's incredible wordplay. OGunz' debut mixtape "Beats Ain't Safe Vol. 1" touches on a variety of topics over mostly industry beats that OGunz has literally made his own. His street single and video "O Boy," over Red Cafe's "Let It Go" beat has taken a life of its own and has been a crowd favorite at every venue OGunz and The Risk Takers have performed. "Beat's ain't safe, that's it...I'm letting people know that I'm bodying anything I'm on."
"Beats Ain't Safe" is available for free streaming and download at http://coast2coastmixtapes.com/mixtapes/mixtapedetail.aspx/ogunz-beats-aint-safe