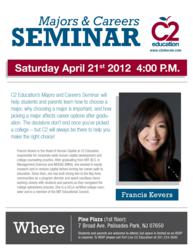 Palisades Park, NJ (PRWEB) April 16, 2012
After the roller coaster ride of the college admissions process – from researching colleges to filling out applications to the daily anticipatory trips to the mailbox – students and parents alike breathe a sigh of relief thinking that the hard part is over. But the decisions don't end with a college acceptance letter; students will still need to select an appropriate major of study and pursue a career path, decisions which must be made early in order to provide the greatest benefits.
C2 Education's Majors and Careers Seminar will help students and parents learn how to select a major, why choosing a major is important, and how choosing a major will affect career options after graduation. The keynote speaker, Ms. Francis Kevers, is the Head of Human Capital at C2 Education, responsible for corporate-wide human capital development and college counseling training. Ms. Kevers has spent countless hours working closely with students and parents as they have navigated the college admissions process and the career planning process.
The Majors and Careers Seminar will be held on Saturday, April 21 at 4 PM at C2 Education's Fort Lee Center, located on the first floor of Pine Plaza at 7 Broad Avenue in Palisades Park, New Jersey.
Students and parents are welcome to attend this free event, but space is limited so an RSVP is required. To RSVP, call the Fort Lee Center at (201) 224 – 3500.
The decisions don't end once a student has picked a college – but C2 will always be there to help you make the right choice!