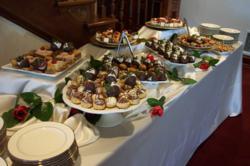 Where you taste buds are in heaven, and your money stays in your pocket.
Fort Worth, TX (PRWEB) April 16, 2012
Sample This Caterings' way of customizing menus to meet the needs of any type of desired food and accommodate its clients is grabbing the industry by surprise.
The best way most companies build employee moral is through a luncheon or just simply over a great meal. At the same most companies would love to continually do this at least once a month.
Since 2009, Sample This Caterings clients have been pleased with the great taste that doesn't break the bank in this economically challenged world.
Thats exactly what Sample This Catering specializes a great way to build employee moral, and to give the best service possible.
Besides it never hurts just to sample, a different way of building employee moral, appreciation for fellow coworkers.
To contact for a free tasting today and a free quote. Call or visit our website 9723303337 or http://www.SampleThisCaterings.com