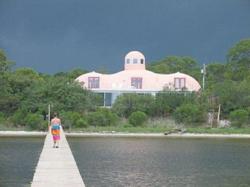 Lake Eufaula Oklahoma vacation rental owners get free listing on www.bobzio.com
Oklahoma City, OK (PRWEB) April 21, 2012
Fishing special starting May 1 at Bayrock homes. Book 3 days and get the 4th day free. Fish are biting on anything thrown at them. Get in on the action. Reports of 100 lb tarpon in St Joe Bay this year along with trophy red fish. For those with homes on Cape San Blas go to bobzio.com to connect with fisherman looking for space to rent.
Bobzio.com is a co-op of vacation rental owners, home exchanges and area services. Bobzio.com announces free lifetime listings for owners of vacation rentals. A comparable website with thousands of listings will charge up to a $1000 for such perks and listing benefits as bobzio.com offers for no cost.
Each owner will get unlimited photos, video upload, interactive reservation calender, Google map and email contact form. Bobzio.com has created a marketing strategy with DirectPlacement.co to list new and existing bobzio listings using google adwords. Visit DirectPlacement.co and ask about adword campaigns promoting a new or existing bobzio.com vacation property listing or homeexchange.
Bobzio.com is only several months old but is growing fast. More users are discovering the advantages of searching for rentals based on activities such as golf, theme parks, scuba diving and any activity imaginable including surfing. http://www.Bobzio.com being a co-op is owned by the members. The ownership role will be determined when the first 20,000 have joined. There will not be a better time to get in on an opportunity like this that could save up to $1000 each year in subscription costs. The website also offers training on techniques to increase internet marketing exposure for individual listings and tips to get photos and videos to show up in some of the major internet search engines. Jump on board. The sooner the better.
Here is a link to a YouTube video showing how easy it is to start a listing: http://youtu.be/qOwKNH0c7Gg.