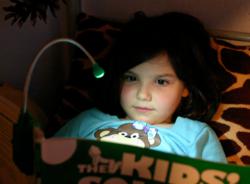 I have been in so many places like Kenya, Mexico, Rwanda, Pakistan, and have seen firsthand how the lack of lighting affects populations. Nokero has taken a stand and developed this product for those living without electricity. -- Inventor Katsaros
Denver, CO (PRWEB) April 19, 2012
The aptly named Ed™ for Education— with a wise personality to match— is poised to teach children about the benefits of alternative energy without breaking the bank. With its MSRP of $10usd, an intro-price of $6usd, and lowest volume pricing of $3.95usd, Nokero's inventor and founder, Steve Katsaros, says: "This is a great tool for teaching a generation of kids to think about their future and the possibilities of a cleaner and brighter life." Katsaros continues, "I have been in so many places like Kenya, Mexico, Rwanda, Pakistan, and have seen firsthand how the lack of lighting affects populations. Nokero has taken a stand and developed this product for those living without electricity…. It is our hope that this little light is also accepted by schools and homes throughout the developed world."
Utilizing an effective mixture of solar, LED and battery technology, Katsaros' patent-pending design allows for easy recharging and ultra performance. When asked about the charge-to-running performance, Katsaros said: "In theory, for every hour of strong-sun charging, Ed will run for ninety minutes." Given this 150% run ratio, kids can study all night long. The following breaks down each component and what makes this ratio possible:
Solar Panel
Ed uses a back-contact solar cell, an ultra efficient photovoltaic technology usually reserved for the most demanding applications, with an efficient cost to match. The grid-less front surface and n-type starting material that does not suffer the initial light-induced degradation of commonly-used p-type wafers allow Ed's small size to pack an unprecedented 40mA of charging. The solar panel is packaged in an EVA + PET lamination process to protect it from UV-degradation and water damage.
Battery
With low self-discharge and hi-temperature chemistry, Ed's Nickel Metal Hydride (NiMH) battery provides years of use until it is replaced. With low self-discharge, Ed can be stored for a few months without losing significant charge. With the hi-temperature chemistry, Ed can withstand the environmental conditions of equatorial regions of the world where energy poverty is prevalent. What's more, if the battery needs to be replaced after a few years, it can be replaced with a standard AAA-sized NiMH battery. Ed's ecologically friendly battery has no harmful lead, mercury, cadmium or other heavy metals.
LED
The light emitting diode (LED) is ultra efficient and created specifically for long-runtime applications. The LED is driven at such low electrical current, it will provide tens of thousands of hours of use.
Housing
Nokero's inventor chose to minimize the parts in Ed to drive the price as low as possible. The housing is a single part made of durable and UV-resistant ABS plastic, yet incorporates most of Ed's features. Although the housing appears to be simple it actually is quite complex—often the more complex something is, the fewer pieces it has.
A worldwide problem:
Approximately a quarter of the world's population lives without electricity, and hundreds of millions more live with intermittent electricity. Most use kerosene, candles, or make do with no light at all. The problem has become so pervasive that the United Nations has declared 2012 the Year of Sustainable Energy for All.
The Ed™ is available via Nokero's international distribution partners, which include NGOs, non-profits, for-profits, and humanitarian relief groups. Samples are available online at http://www.nokero.com for $6, a "sample-only" price.
About Nokero
Nokero(short for No Kerosene) was formed in June 2010 to develop safe, affordable and environmentally-friendly technology that eliminates the need for harmful and polluting fuels used around the world. Nokero is a fully-financed, privately held company with offices in Denver, Colorado and Hong Kong.
For more contact:
Steve Katsaros
steve(at)nokero.com
US cell: +1(303)514-1991