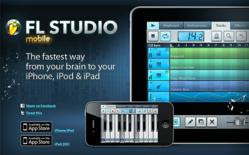 Fastest way from your brain to your iOS device
(PRWEB) April 16, 2012
Image-Line software reports that the latest version of FL Studio mobile is available.
NEW FL STUDIO MOBILE FEATURES INCLUDE:
In-App shop (Instruments Tab), with 2 x instrument packs available free (HD version only).
Downloaded purchases can be transferred between FL Mobile and FL Mobile HD by copying '.flmdlc' files.
WiFi server button (Setup Tab) for file sharing via an Internet Browser.
Double tapping an instrument category button opens/closes all folders.
Faster App launch.
Improved playback timing and performance.
iPad 3 graphics support.
Installing FL Studio Mobile (iPhone/iPod) and FL Studio Mobile HD (iPad) on an iPad will unlock all the purchased sample packs.
Existing customers can update FL Studio Mobile free.
Pricing:
FL Studio Mobile: For iPhone & iPod Touch (inc with Retina display support) - $14.99
FL Studio Mobile HD: For iPad 1 & 2 - $19.99
FL STUDIO MOBILE FAQ
Is FL Studio Mobile available for Android OS?
It's in development. Visit the FL Studio Mobile website and click on the Android section for more information.
Can FL Studio Mobile use VSTs?
No, iOS does not support VSTs. FL Studio Mobile uses high quality sample based instruments made from Image-Line plugins and sample packs.
Is FL Studio Mobile compatible with FL Studio for Windows?
While FL Studio Mobile is not a port of the Windows version FL Studio Mobile projects are compatible with FL Studio 10 and higher. FL Studio for Windows customers can export instruments from FL Studio to FL Studio Mobile in .instr format.
Additional information on FL Studio is available at http://www.flstudiomobile.com
ABOUT IMAGE-LINE SOFTWARE
Established in 1994, Image Line Software provides high quality music applications to the computer-based music community and is well known for its leading digital audio workstation FL Studio (formerly FruityLoops), high quality synthesizers including Sytrus, PoiZone,Toxic Biohazard, Harmor, Harmless, Morphine, Ogun and Sawer, a mix of innovative Effect plugins like Maximus and Hardcore and range of sample libraries used in their multi-sampler plugins DirectWave and Soundfont Player. FL Studio Mobile. The acclaimed DJ mixing software application Deckadance. In addition to its audio software, Image Line Software develops and distributes the web site EZGenerator.
For more information, please contact:
Scott Fisher, Communications Manager
Image Line Software
E-mail: press(at)image-line(dot)com
http://www.image-line.com/documents/news.php
###