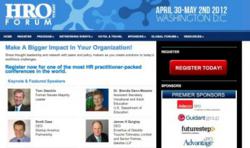 EDISON, New Jersey (PRWEB) April 16, 2012
The HRO Today Forum has announced the top five finalists for the iTalent Competition, sponsored by Oracle in cooperation with StartUp America. The finalists will compete for top honors on May 2 during the HRO Today Forum & Workforce Congress in Washington, D.C.
The competition focuses on HR, recruiting and talent management technology innovations that are HR and recruiting technology startups that are creating job growth and helping businesses recruit, hire and develop employees. The five HR technology finalists are:

JobEscrow
The Good Jobs
MyNextGig.com
Kapta Systems
Degreed
These finalists will give 10-minute pitches before a plenary audience and panel of HR technology experts, industry advisers, and investment analysts. Each pitch will be "grilled" by the panel, and a winner will be chosen at the end of the session. Panelists include:
Bill Filip, Former Managing Director and Partner, Baird Venture Partners
Yvette Cameron, Vice President and Principal Analyst at Constellation Research
Madeline Laurano, Research Director, Talent Acquisition Solutions at Aberdeen Group
Brent Skinner, President & Chief Executive Officer of STETrevisions
Mike Schnoll, Senior Director, BPO Program, Oracle
Susan Strayer, Head of Talent Strategy at Evviva Brands
Cooper Mills, Managing Director at CHILDS Advisory Partners
Meghan M. Biro, Chief Executive Officer and Founder of TalentCulture and #TChat
Jessica Miller-Merrell, Chief Executive Officer at Xceptional HR
Geoff Webb, Chief Executive Officer at Radical Events
The iTalent winner will receive a number of promotional benefits, including face-time with the judging panel including investors, one-on-one meetings with attending HR executives, a feature article in HRO Today magazine promoting the winning company and the innovative technology, and a free ad in an upcoming issue of HRO Today magazine.
"We are really excited about joining the iTalent Competition," said Alex Raymond, Founder of Kapta Systems Inc. "We strongly believe in the power of technology to help America's small companies get ahead and stay there. This event is going to be a great forum to introduce the Kapta tools and show how we can help American companies grow and create jobs."
"The JobEscrow team is honored to unveil our new innovative HR technology platform at this year's iTalent Competition," said Ken Winters, PHR, Chief Executive Officer and Co-Founder of JobEscrow, Inc. "We are excited to pioneer the next evolution in recruiting and outplacement and can't wait to show off our patent-pending services."
Rounding out the top 10 HR technology entrants are Feathr, Ascendify, Work4 Labs, GetHired.com, and UpMo. The top 10 companies will all participate in the Big Idea iTalent Networking event later that same day, talking directly with HR officers about the challenges of today's workforce, sustainable job growth and the technology innovations that can help spur growth.
"The goal of the iTalent competition is to recognize and reward innovations in HR technology, because innovative ideas in any industries create new solutions and new jobs," said Elliot Clark, Chief Executive Officer of SharedXpertise, producers of the HRO Today Forum. "These up and coming software platforms are the next generation of solutions that will improve the impact of HR."
Registration for the HRO Today Forum & Workforce Congress is available at http://www.hrotodayforum.com/index.php/register/.
About the HRO Today Forum (http://www.HROTodayForum.com)
The HRO Today Forum, taking place April 30-May 2, 2012 in Washington DC at the Gaylord National, brings together the former HRO, MSP, and RPO Summits along with the HR Demo Show to attract HR Executives to engage with Providers, Government and NGOs to make an impact on the current workforce issues. Through a highly interactive setting, the Forum provides the big picture, dynamic dialog, and deep dives on the issues surrounding how HR Officers operate the Global Business of HR.
Sponsors for the HRO Today Forum 2012 include: (Premier) Adecco RPO, Guidant Group, FutureStep, AdvantagexPO; (Gold) Taleo, ADP, Kenexa, SourceRight, AllegisTalent2, AdeccoMSP, Staff Management, Aon Hewitt, Rayteheon Professional Services; (Silver) Alexander Mann Solutions, Pinstripe, ORACLE, SevenStep, TPI/ISG, NorthgateArinso; (Bronze)Ceridian, Hays, Hudson RPO, PeopleScout; (Supporting Sponsors) WilsonHCG, Kelly OCG, CareerBuilder, Accenture.
About SharedXpertise
SharedXpertise is the leader in providing media, summits and forums that develop professional practices in the areas of corporate responsibility, human resources and financial management. Its media offerings include print and online publications; its summits are conferences and its forums offer association membership programs. SharedXpertise serves strategy-level corporate executives in the human resources, finance, compliance and sustainability professions in North America, Europe and Asia.
Media contact:
Heath Davis Havlick
Fisher Vista for SharedExpertise
831-685-9700
hhavlick(at)hrmarketer(dot)com
This press release was distributed through PR Web by Human Resources Marketer (HR Marketer: http://www.HRmarketer.com) on behalf of the company listed above.