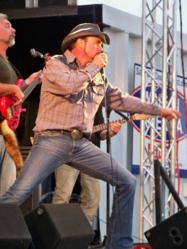 Elma, NY (PRWEB) April 15, 2012
The Made In America Store will be celebrating being open for two years by presenting Ricky Lee, a Nashville recording artist at its location. The second anniversary in of itself is proof that buying USA made products can help the economy. Since the opening of the store in April of 2010, the store has gone through three different expansions and grew the inventory from 50 unique products to over 3,500 products.
Ricky Lee and the Made In America Store teamed up back in 2010 when the store owner, Mark Andol, discovered Lee's song, 'Made In America." The patriotic song is about Ricky growing up in America and how times used to be with relatives working on the factory line to it eventually being shut down. The song stresses how important it is to keep your values with being made in American.
The Made In America Store offers two of Ricky Lee's albums, and also are 100% American made. Ricky Lee is also committed to the US soldier, just like the Made In America Store. For every CD Ricky Lee sells, he donates five dollars to the VFW Military Assistance Program.
Customers can purchase both Ricky Lee's CD's, "Ordinary Man" and "Freedom"
The Made In America Store is located on 900 Maple Road in Elma, New York. 14059. The Made In America Store is committed to selling 100% American made products, right down to the packaging. The Made In America Store sells over 3,500 products from over 290 independently owned companies. Consumers can visit http://www.MadeInAmericaStore.com for an online catalog and more information on events and news. Consumers can also follow the Made In America Store on Facebook, Twitter, Pinterest, Tumblr, Google+ and FourSquare.